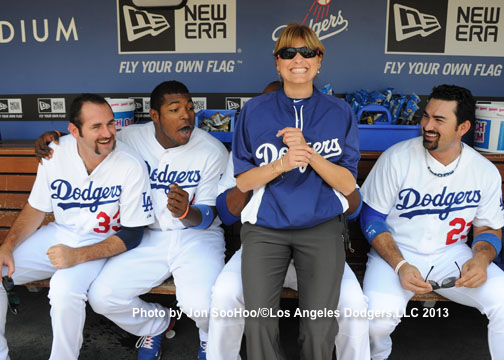 So when the Dodgers were losing game after game for two solid months, why didn't the team blow up into 25 selfish fireballs like everyone said they would?
Before going 21-5 in their past 26 games, the Dodgers were 30-42. In reality, it was even worse than that. Los Angeles started its season 6-3, then went 24-39, a .381 winning percentage that placed them among the worst teams in baseball.
Through that entire stretch, there were only two off-field issues of any note at all, and each of the people involved handled them gracefully.
Don Mattingly became the subject of daily rumors of his impending firing. Mattingly didn't lash out, but kept his focus on the task at hand.
Mattingly did say the following on May 22:
"We're last place in the National League West. Last year, at this point, we're playing a lineup that basically has nobody in it, that fights and competes and battles you every day for every inch of the field. We talk about it as an organization. We've got to find the club with talent that will fight and compete like the club that doesn't have that talent. If there's going to be a message sent, it's going to be over a period of time."
Though Mattingly was speaking about the entire squad, Andre Ethier was benched the day Mattingly made these statements, something few people thought was a coincidence — including Ethier, who was clearly hurt by the comments.
Whatever negative reaction Ethier might have had after that day, however, he kept in the clubhouse, without pouting or making a stink in the press. And in the past two months, Mattingly has singled Ethier out for praise for his efforts.
And that's it. No tabloid stories have come out of the Dodger clubhouse. No tales of infighting or finger-pointing. Beset by injuries and slumping players, the losses kept piling up — June began with an 8-14 record — and everyone had every reason to be frustrated. But no one, not even the so-called troublemakers from outside (Hanley Ramirez, Adrian Gonzalez, Carl Crawford or Josh Beckett) caused trouble. Yasiel Puig has ruffled feathers, but those angry birds are opponents, not teammates, unless you call statesman Juan Uribe's reactive counseling a conflict.
Maybe the Dodgers have just become experts at running an airtight clubhouse, but I doubt they're that competent. More likely, the minor stuff has been settled in-house, but the major conflicts just haven't happened.
I'm not crediting chemistry for the turnaround. It seems clear that improved health, solid pitching and a red-hot Ramirez have been the keys.
But I do think it's worth noting that the narrative of the Dodgers as a chemistry-challenged team was severely tested this spring. And like so many other invented tales, it was found false.
Previously on Dodger Thoughts:
March 31: The Giants' 2012 title: Dealmaking trumps chemistry