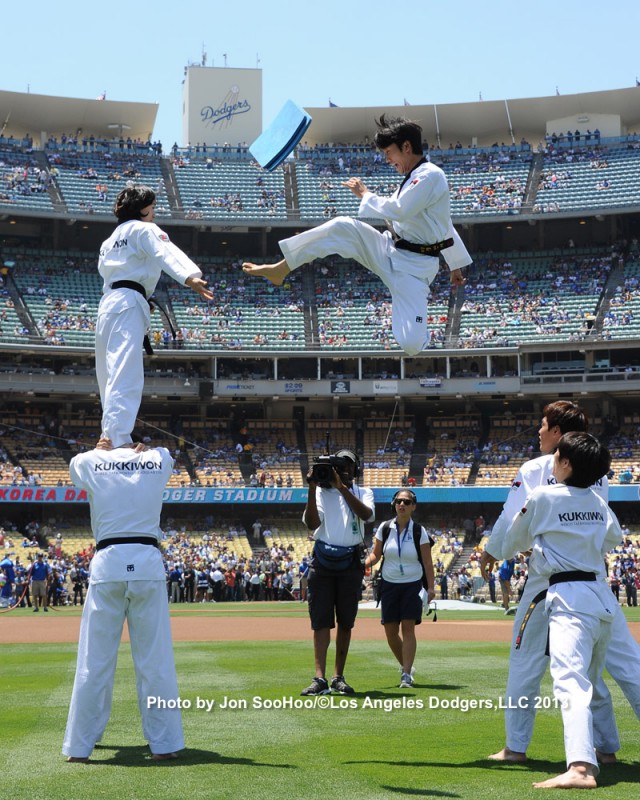 I'm not gonna pretend to have the words that can turn 20 strikeouts and a walkoff home run into something more spectacular than 20 strikeouts and a walkoff home run.
Twenty strikeouts. And a walkoff home run.
That was the story today for the Dodgers, who outlasted Cincinnati in 11 innings, 1-0, on Yasiel Puig's blast to win their 26th game out of 32, matching their best stretch of that length in Los Angeles history.
Los Angeles has opened up a 2 1/2 game lead in the National League West, and without for a moment believing that the divisional race won't still end up a fight, I have begun to open up room in my consciousness for the pursuit of the best record in the league.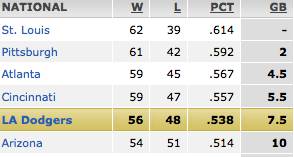 Steadily, the Dodgers have been gaining ground here, too.
Cincinnati, I thought, was a very impressive opponent. Yet the Dodgers not only won three of four from the Reds, they held them to the following from Friday through Sunday: 29 innings, 11 hits, two runs, three walks, 24 strikeouts, 0.63 ERA.
Los Angeles wasn't exactly lighting the scoreboard on fire, especially today. The 20 strikeouts were, by two, a franchise record dating back to Brooklyn for games of any length. When Brooklyn and Boston played to a 26-inning tie in 1920, the two teams combined for only 14 strikeouts. At one point, Cincinnati retired 11 Dodgers in a row with 10 strikeouts sandwiching a caught stealing.
That misbegotten baserunner was Puig, who went jazzhands on the basepaths all series. He was also one of four Dodgers to strikeout at least three times Sunday – another franchise record. Meanwhile, Puig went 5 for 15 with two walks and the no-doubt home run against the Reds – not so bad for a so-called struggling player.
A moment has to be devoted to a couple of pitchers who have had their ups and downs this season: Chris Capuano, who threw 6 2/3 shutout innings, and Brandon League, who pitched the final two for his third victory since Tuesday. Since the All-Star break, League has pitched 6 2/3 shutout innings.
Los Angeles is off Monday, then takes on the New York Yankees on Tuesday and Wednesday, capped by a heartdropping matchup between Hiroki Kuroda and Clayton Kershaw.