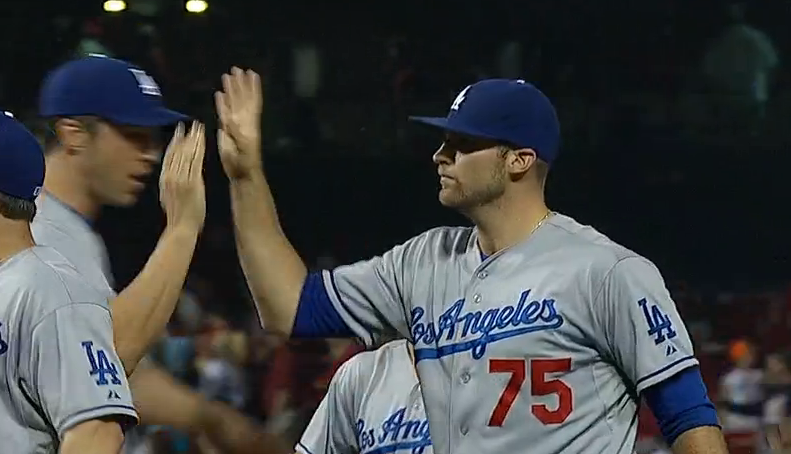 Hanley Ramirez is on the sidelines – for days or weeks, we're still not sure.
Kenley Jansen was on the sidelines – for a breather after an intense run of success.
But no one could sideline the Dodgers' winning ways.
It was another close one, but thanks to just enough hitting and starting pitching and the right stuff from a young lefty in the bullpen, Los Angeles won its 15th consecutive road game, defeating St. Louis, 3-2.
The Dodgers are now 32-7 in their past 39 games, 15-2 since the All-Star break and are two away from the National League record for consecutive victories on the road, set 97 years ago by the New York Giants. They are a full six games ahead of idle Arizona in the NL West, and within three games of St. Louis, a team that on June 21 held a 16-game margin over them.
During their 32-7 run, the Dodgers are 10-0 in one-run games. They have won 10 of past 11 and were tied in the ninth inning of game they lost in that stretch, at home against the Yankees.
Though they led most of the way, it was a comeback victory for the Dodgers. Los Angeles fell behind in the first inning thanks in part to some spotty glovework by Yasiel Puig (who made a throwing error) and Nick Punto (whose throw home later that inning wasn't good enough to prevent a run), but came back to take a 2-1 lead in the fourth on a walk to Adrian Gonzalez, a double by Puig, an RBI single by Andre Ethier and a run-scoring groundout by A.J. Ellis.
Then in the fifth, Puig, returning after a day off, and Punto, starting in place of Ramirez, reversed their fielding fortunes and teamed up to take a Cardinal run off the scoreboard. Puig barehanded David Freese's double off the wall and rifled the ball to Punto, the shortstop who was in short right field to take the throw. Punto whipped the ball home to A.J. Ellis, who shorthopped it and tagged out Allen Craig trying to score from first.
Greinke, who earlier had a sacrifice bunt, hit an RBI single to right-center to push the Dodger lead to 3-1. That hit raised Greinke's 2013 on-base percentage to .476, currently the highest of any pitcher in baseball history with at least 40 plate appearances.
The hit also provided an important insurance run. To start the bottom of the seventh, Greinke walked pinch-hitter Abron Chambers, who was batting .200 with no career homers. Matt Carpenter followed with a hit, putting runners at first and second as Greinke neared 100 pitches. Surprisingly, Carlos Beltran bunted, putting runners at second and third but giving up an out.
Chambers scored on an RBI groundout by Craig against Ronald Belisario, but the Dodgers escaped with their one-run lead heading into the eighth.
Greinke's bottom-of-the-seventh struggle essentially eliminated any hope that the Dodgers wouldn't agonize about getting through tonight's game without Kenley Jansen, who entered the action with 25 consecutive batters retired (13 by strikeout) but with appearances in nine of his past 13 games, including 13 pitches Saturday and 15 Sunday. After Paco Rodriguez threw only six to get his three outs in the eighth, he remained in the game to start the ninth against the 8-9-1 spots in the St. Louis lineup, while Jansen sat in the bullpen with his coverup on. Brandon League warmed up in support of Rodriguez.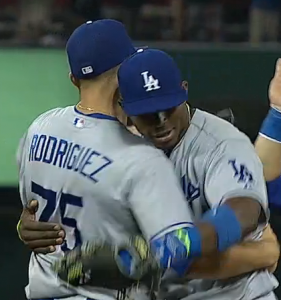 • Left-handed hitting Daniel Descalso struck out on three pitches.
• Left-handed pinch-hitter Matt Adams, with an .836 OPS and eight home runs in 174 at-bats, grounded out to Gonzalez on the second pitch from Rodriguez.
• Left-handed hitting Carpenter went ahead in the count 2-0, swung and missed, then hit a fly ball to center field that Ethier flagged down.
Rodriguez had his second career save (the first by a Dodger of at least two innings since Ramon Troncoso in 2009), Jansen had his night off, Greinke had his 100th career victory and the Dodgers had yet another win. Incredible, ain't it? Simply incredible.
Previously on Dodger Thoughts: Phenomenal bullpen key to Dodgers' revival