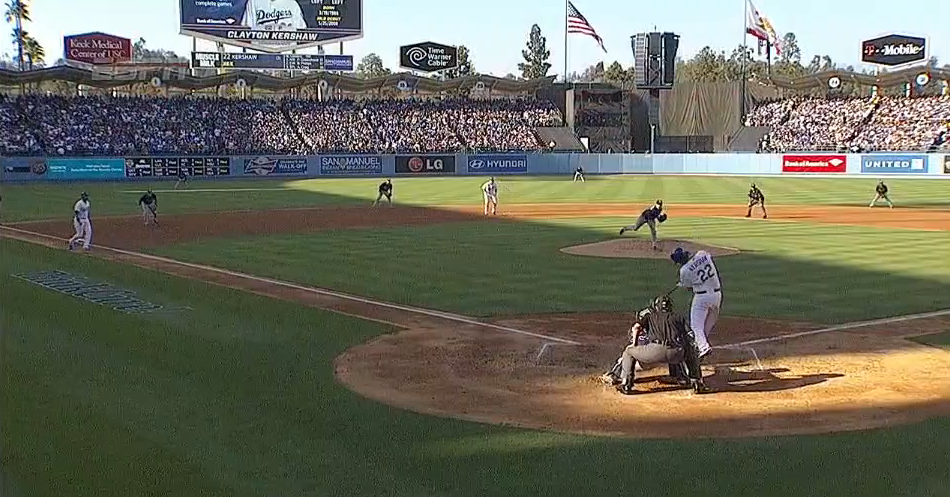 At 37-8 (.822) in their past 45 games following tonight's 8-2 romp over Tampa Bay, the Dodgers need to go 32-5 (.865) to match the 1971-72 Lakers as the hottest L.A. team of all time.
I'm giddy, but you've gotta have goals, right? Oh, there's that little matter of continuing the run in the playoffs, but first things first.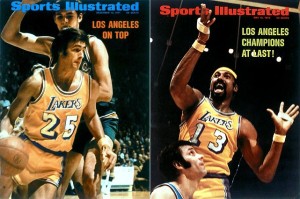 Tonight's was another game that found the Dodgers so dominant that their mistakes didn't matter. You can't do that forever, but it's nice while it lasts.
Dee Gordon's hat trick of errors threatened to make him less popular in Los Angeles than Brandon League or Carlos Marmol, but the worst they did was cost Clayton Kershaw a complete game. In fact, the Dodger ace would probably have had a shutout if not for Carl Crawford's fifth-inning bobble in left field of the first hit off Kershaw, a play that allowed Yunel Escobar to go to second base, stay out what would have been a double-play grounder by Ryan Roberts and score the Rays' first run on a triple by Sam Fuld past a diving Yasiel Puig.
There was also a missed squeeze sign by Puig on third base, on bunt that was attempted by A.J. Ellis, a play that was of little consequence in the game but enormous significance to ESPN.
Meanwhile, Los Angeles pounded Tampa Bay pitching, running their streak of unanswered runs in the series dating back to the middle of Friday's game to 18 in taking a 6-0 lead after four.  Kershaw had the first two RBI on a single in the second inning, after which Mark Ellis just missed a three-run homer in settling for an RBI double. A.J. Ellis had a sacrifice fly in the fourth (following the missed squeeze), and Adrian Gonzalez a two-run double in the fifth. All six runs crossed the plate with two out.
Mark Ellis later got his home run in the sixth, giving the second baseman three hits on the night.
Even with the four errors by his defense, Kershaw ended up pitching eight innings and allowing one earned run, three hits and two walks while striking out eight on 103 pitches. He lowered his major-league leading ERA by 0.03 to 1.88. He had no-hit stuff and looked in complete control until he issued a walk to start the eighth inning. But even after that was followed by a single and Gordon's third error, Kershaw stepped out of the jam with little damage on a strikeout, sacrifice fly and groundout.
In the ninth, Marmol had his first perfect inning as a Dodger and, for what it's worth, has made five consecutive scoreless appearances, allowing three hits and four walks while striking out three in 4 1/3 innings. It's clearly the control that's been his downfall, but he had good location tonight, retiring the side on nine pitches, eight for strikes.
Arizona lost again, allowing the Dodgers to boost their lead in the National League West to a season-high 7 1/2 games. Los Angeles is within 4 1/2 games of Atlanta for the best record in the majors.