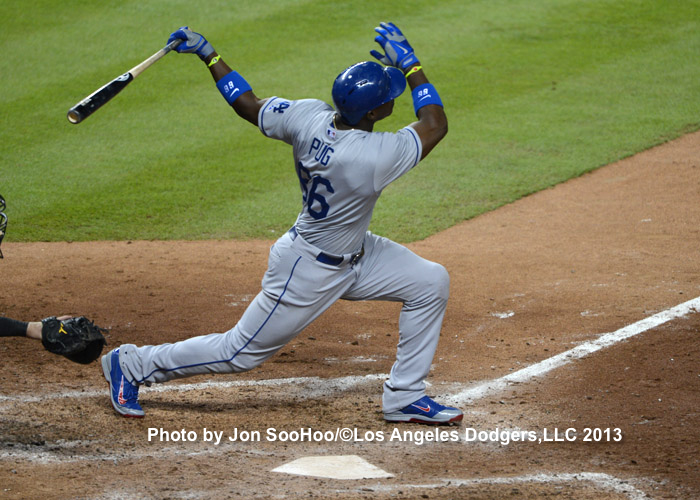 My favorite part of Bill Plaschke's latest column in the Times, which I've been rubbernecking since Tuesday night – I mean, there's such a perverse pleasure in it; it's like perspective fell down a well, and news trucks from all around the country have come to cover the dramatic rescue attempt – is this.
Plaschke is so gung-ho about his mission to bench Yasiel Puig that he thinks you need to make plans to do it over and over again.
… There is one easy way out of this problem. That would be Matt Kemp. The Dodgers desperately need the return of the injured Kemp — giving them four outfielders for three spots — so Puig can be benched more often down the stretch and be allowed to grow more slowly into the game. Kemp could be back as soon as Sept. 1, and for Puig's development, it will not be soon enough. …
It's as if one side of the reactionary sports world said, "They pull a Morosi? You pull a Plaschke."
Plaschke somehow managed to top the magical illlogic earlier in the same column, "For every playoff game that Puig wins with his bold arm or crazy legs, he could cost them two," a statement that shows that as much as Plaschke claims to see the big picture, he misses it entirely.
Look, even most of those who thought a punitive benching of Puig was an overreaction would concede that a day off to collect himself might not hurt. There are obviously aspects of Puig you'd like to see improve, and leaving him out of the starting lineup Tuesday was sensible timing.
But when you argue in print that a 22-year-old ballplayer, after 2 1/2 months in the major leagues, is so lacking in character that you "desperately" need a mechanism to keep him in line – weeks from now, over and over again, because the initial punishment or his natural development has so little chance of working  – you've revealed to the world your bias against him.
And it's a nice touch to ignore the irony that the Dodger you name as your savior is the last one you pilloried in the press.
Even Plaschke's seemingly rational request that Puig "be allowed to grow into the game" misses the mark, ignoring the fact that this player, who 14 months ago was in the midst of a long layoff from competitive baseball on any level, has shown preternatural ability to do just that. If Plaschke just took a breath and thought about all the things Puig does right, that no observer of the Dodgers had any right to expect in August 2013, he might not be so alarmed and devastated that yes, mistakes do happen, on and off the field.
Every parent, to use one analogy, wants to protect and instruct their children from making mistakes that could cause them harm. There's plenty I'd like to see my kids do better. But ideally, I evaluate their weaknesses alongside their strengths, I don't let their shortcomings blind me to their sheer wonder, and I certainly don't plan for their continued ignorance.
And I understand that the best way to learn is to learn by doing.
But don't give up hope. Perspective might yet make it out of the dark, cold pit. I give Don Mattingly a healthy chance of ensuring its rescue.