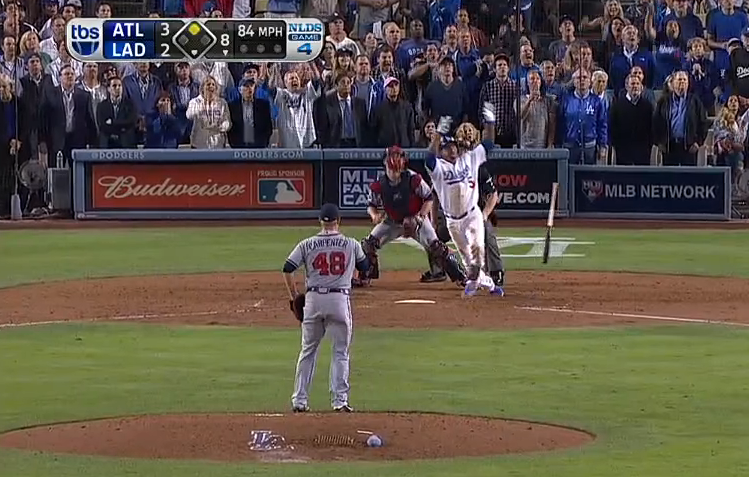 All the thrills and the joy and yet I must start with this.
In July, I wrote, that there really hadn't been a story like Juan Uribe in Los Angeles Dodger history: "What Dodger endured two miserable years, while collecting a big paycheck, before putting it together in his third season?" In the post-1975 free agent era, no such player exists. There have been players who struggled coming up in the system, there have been acquisitions that got off to slow starts (Dusty Baker comes to mind). But none was such a disappointment, none was so marginalized, none was so close to being released … only to come back to become the subject of chants and cheers and curtain calls, as Juan Uribe.
As the Dodgers advance to the National League Championship Series with their 4-3 victory Monday over Atlanta, you can be sure it was a team triumph. Absolutely, there are stars – clearly, this is Clayton Kershaw's world that we rent existence in – and absolutely there were nearly goats, but to get to this point has taken contributions from everyone on that roster.
But holy cow, for those of us who come to baseball for an escape, for answers or even suggestions, to feel something that we can't often or otherwise find in everyday life, consciously or unconsciously, and see such a tale of redemption played out right at center stage, see one who was so mercilessly derided become the hero, and to know it's real, brings an emotion to cherish above and beyond the revelry of victory.
Yes, I know Juan Uribe was well compensated as he stunk up the joint in 2011 and 2012 and he didn't need my sympathy. And I never offered it. But strip everything else away, and you have the story of someone who found his way back from tar and feathering into sweet serenity. If you've ever felt like you've been failing, it is an inspiration. I'll never be Clayton Kershaw, the best in the world. But I might be Juan Uribe. I might have my moment.
* * *
To say the least, this National League Division Series Game 4 tossed expectations of success and failure into a blender.
Clayton Kershaw, starting for the first time in his major-league career on three days' rest, was absolutely on his game, burnishing his legend as this generation's Sandy Koufax. (Fine, they're two different people and one hasn't locked up the Hall of Fame yet, but I'm tired of people trying to deny their equivalency.) Kershaw faced 24 batters and allowed only three singles and a walk while striking out six – meaning that he had struck out 18 in 13 NLDS innings.
But the first sign that not even Kershaw can control the earth's rotation and the winds of the fates came with the very first batter, when a simple groundball eluded the glove of Adrian Gonzalez at first base. The short-term ramifications were that Kershaw had to throw seven extra pitches to get out of the first inning – and it took a backhand play on the line behind third base by Uribe to do it – but immediately you feared the domino effect on a night he would be on a shorter leash than normal.
If that had been the only deviation from the ideal script, it wouldn't have mattered. The rest of the night called for the Dodgers to pound multi-organization moundsman Freddy Garcia early and often, and it looked like that would happen. Carl Crawford, 24 hours after his huge three-run Game 3 homer Sunday, jumped on a 1-2 offering from Garcia and drilled it over the right-field wall for a leadoff blast, the first of his career since hitting one off Garcia eight seasons ago. One out later, Hanley Ramirez singled and stole second, and one more out later, Yasiel Puig absolutely smashed a ball to right field that looked as much like a homer as anything I saw from my seat on the Reserved Level all night. But Justin Upton caught it at the fence, and the Dodger lead remained 1-0.
Kershaw cruised fairly easily through innings two and three, allowing only a single to the consistently bothersome Chris Johnson, before Crawford came up again with one out in the bottom of the third. Unbelievably, Crawford hit a second homer, this one high down the right-field line, to double the Dodgers' lead. When Mark Ellis followed with a bloop double, placing Ramirez and Gonzalez at the plate with one out, you wondered whether the bell was tolling for Garcia.
But the 37-year-old showed us. Through the end of the third, the fourth, the fifth, the sixth Garcia would go, and no more runs would he allow. And by the time someone else was pitching for the Braves, they would be winning.
Freddie Freeman singled off Kershaw to start the fourth inning. Gattis, who always seemed to be involved in interesting plays this series, hit a sharp grounder to Gonzalez, who turned to throw to Ramirez. On the Dodgers' postgame show, Gonzalez said he forgot how deep Ramirez had been playing and that although he threw the ball on a line, it arrived too early. Ramirez couldn't catch it. The Braves had two on with none out, and for those keeping Kershaw watch, Gonzalez had blown three potential outs out of the first 13 batters.
It gets worse. Kershaw didn't get three consecutive strikeouts like the situation basically demanded. Instead, he threw a wild pitch and gave up a single to That Darn Johnson (who had RBI in every NLDS game), and Atlanta was on the board. The next batter, Andrelton Simmons, hit the second potential double-play grounder of the inning, but while Uribe fielded it smoothly and threw to Ellis, the second baseman's relay to Gonzalez at first was wide, and Gattis scored. Two runs and four outs given away by the Dodger defense, and the game was tied, 2-2.
The sixth inning ended with Kershaw at 91 pitches, but he did not come out for the seventh, in what purely had to be a nod to protecting his arm. I'm not questioning that, because I'm all for protecting his arm, but I'm just curious how that was determined to me the limit. In any case, it became at that moment the Dodgers' bullpen against the Braves' bullpen in a tie game, a turning point that was supposed to go Atlanta's way.
And so it did, immediately. Ronald Belisario got the first out but gave up a triple to Elliot Johnson, previously hitless in the series. With the infield in, pinch-hitter Jose Constanza – the guy the Dodgers were afraid to have Chris Withrow face in Game 2 – hit a legit single up the middle. In that moment, Garcia and Constanza were positioned to be the Brave heroes sending the series back to Atlanta for Game 5.
More and more, Game 4 was taking on the shape of Game 2, a game that the Dodgers came close to breaking through time and time again, only to be foiled. In the bottom of the seventh, for the second time in the evening, Ellis doubled ahead of Ramirez and Gonzalez. But after Ramirez was walked intentionally, Gonzalez flied deep but not deep enough to right field.
Brian Wilson entered in the eighth inning and struck out the first two men he faced, then gave up singles to Chris Johnson (his third) and Simmons. An insurance run was a solid hit away from scoring. But Elliot Johnson flied to center field, and I'll just say this – seeing Atlanta waste one of its few scoring opportunities (only their second runner stranded in scoring position all night) – felt different.
Puig was the leadoff batter for the bottom of the eighth against David Carpenter. He would need to get on base to get a rally going, and he would surely need an extra-base hit to avoid putting the Dodgers in what Don Mattingly would surely turn into a bunting situation. And Puig delivered, a beautiful, go-with-it, opposite-field shot down the right-field line for two bases. (He looked dangerously close to coming off second base in his exultation, but all was well.) There it was, the tying run on second base and three shots to get him home with a single single.
And still, Uribe showed bunt! The headline of this paragraph should be "Grrr! Mattingly!" The sheer frustration watching someone make a decision based entirely on the premise that Skip Schumaker will hit a sacrifice fly or that a ball will get away from the catcher is rarely replicated in civilized society, but there it was.
Uribe twice fouled off bunts, leaving him simply with the task of batting with an 0-2 count against a pitcher whose regular season stats included a 1.78 ERA, 0.99 WHIP, 10.1 strikeouts per nine innings and fewer than a home run every 13 innings.
And then …
Redemption.
Said Vin Scully after calling the home run: "Isn't it amazing what someone will do when he can't bunt?"
Joked A.J. Ellis on the postgame show: "And Uribe, wisely, decided not to get the bunt down."
Even the Dodgers' radio team seemed to feel the Dodgers dodged one simply when Uribe fouled the bunts off, with Kevin Kennedy pointing out that handing the Braves an out might bring uber-closer Craig Kimbrel into the game that much sooner.
And so Mattingly gets derided for his performance in this moment. But what does Uribe remind us if not the potential for redemption?
* * *
Kenley Jansen for the ninth. Earlier in the evening, Tampa Bay had scored a go-ahead run in their bottom of the eighth against Boston, only to surrender that lead in the top of the ninth. The Rays still won, but who wanted any part of that kind of drama?
Not Kenley Jansen.
Strikeout.
Strikeout.
Five years after clinching an NLDS series at home against Chicago, four years after a two-run rally in their last at-bat to win their final NLDS home game against St. Louis, the Dodgers had done it again.
They will next play Friday, either at home against Pittsburgh or on the road against St. Louis. They will be able to start Zack Greinke and Kershaw in the first two games of the NLCS, as well as two other games if necessary.
They will perhaps have the exact same roster, with the only changes potentially Andre Ethier starting in center field, and maybe a tinker for the ever chancy bullpen.
For all that has happened, they will be trying to win a seven-game series for the first time in 25 years.
They will continue on their path, their path to turn past disappointments into pure happiness.