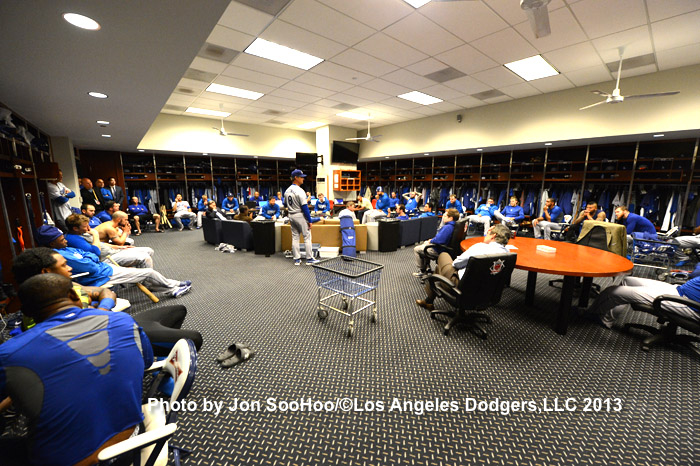 Well, folks, we sure got a humbling wakeup call about our understanding of the Dodgers this week.
For starters, all season long, everyone — and I mean everyone that wrote, commented, tweeted or otherwise published a word about the 2013 Dodgers — attributed in-game strategic decisions wholly to manager Don Mattingly. Then, this week, all of a sudden there was Trey Hillman.
Sure, the bench coach had been there all along, been there for three years, but he had walked the Dodger planet in almost complete anonymity, save for taking over after a rare Mattingly ejection. Hardly a word was uttered about his role with the team until Monday, when he was fired for whatever advice he did or didn't give, day after day, to Mattingly. Even today, no one seems entirely clear what that counsel was or wasn't.
Mattingly was the guy in the driver's seat, of course. The in-game buck stopped with him. But now we're told that the bench coach played a much more significant role with the Dodgers than anyone realized. There was this nearly invisible x factor that reminds all of us that as much as we think we know everything that's going on with the team, we still operate in large pockets of complete ignorance.
On top of that, a new mystery about what exactly the Dodger clubhouse was like in 2013 emerged Monday, via the infamous Mattingly-Ned Colletti press conference. I made the point, on Twitter I believe, that this seemed to be the most peaceful Dodger clubhouse in my memory — certainly in my time doing Dodger Thoughts. Outside of roughly 24 hours worth of quickly defused tension between Mattingly and Andre Ethier and whatever wrassling might have been going on with Yasiel Puig, there was no hint of conflict reported by the media.
But on Monday, Mattingly opened a small window into what may actually be a large world of in-house second-guessing and authority-undermining, the extent of which still isn't clear. Whatever it is, it was not a part of the published story of the 2013 Dodgers until after the 2013 Dodgers were history.
Part of what made Monday's awkward press conference so shocking is that the organization has seemed so amazingly united this year. Even when Mattingly's job was in jeopardy in May/June, the manager displayed a rather remarkable level of poise and understanding. Mattingly, in a fashion I've seen other managers make little use of, accepted the blame for the team's last-place start and hardly hid behind the injuries. Even the incident with Ethier has always struck me as more about getting the team more focused than anything else, which is why I think the team moved on from it so quickly. From May 25:
… while I think Andre Ethier was clearly in mind as Mattingly spoke about what it takes to win and all that, I don't think Mattingly was singling out Ethier.  I think he was making an example of Ethier, which is an entirely different thing.
Take note of this. The Dodgers put out their Wednesday lineup. Ethier isn't in it. Reporters ask why. Mattingly doesn't directly answer the question, instead delivering his rugged sermon about what he expects from every member of his squad. It's clear that Ethier is falling short of this standard. But it's also clear that Ethier is not the only one falling short of the standard (in Mattingly's mind), and I don't know why people didn't see this. …
Ultimately, Mattingly seemed at peace with the responsibility of being the fall guy. But clearly, he was wrestling with other feelings that emerged this week, and even more clearly, not everyone was on the same page when Monday's press conference was called. Perhaps rather than the epilogue of the 2013 season, what Monday brought us was the first page of the book on the 2014 Dodgers.
As for head trainer Sue Falsone's departure (once more, the Variety term "ankling" seems useful here), it was celebrated by numerous fans who weren't in thrall to her or her pioneering position in the guys' club. But our ignorance about the impact of her presence or absence could hardly be higher.
Few inside the organization, and fewer still outside of it, have any idea how Falsone, Stan Conte or anyone on the Dodger medical staff improved or diminished the team's overall health — that is, on the injuries they actually might have had any influence upon. There was undeniable inevitability of injuries to middle-age players like Chris Capuano, Carl Crawford or Mark Ellis, while putting mishaps like Zack Greinke's broken collarbone on the staff's plate is particularly ludicrous. Logically, the only question is not whether the 2013 medical staff wasn't good, but whether anyone could do better. That's a much different way of framing things than assuming they were actually contributing to the Dodger injury problems, which I've seen some fans posit.
Look, I'm not above questioning things that the Dodgers do, from player transactions to bunting decisions to the presence of in-stadium pregame hosts. Not only is that part of following the team, but sometimes, I think outsiders really do know better. But be wary of having too swollen a head about this stuff. There's lots going on beneath the surface that we don't know about until much, much later.