By Jon Weisman
Dodger fans like to roam if they want to – and that, as much as anything, explains the motivation behind this offseason's key renovations at Dodger Stadium.
The Dodgers plan to expand the entry areas behind the right-field and left-field bullpens, quadrupling the size of those concourses while also providing more culinary, retail and ticket services and improving disabled access. Fans ticketed for the Dugout, Field, Loge and Club Levels, as well as the Pavilions, will have access to these multifaceted areas.
"Dodger Stadium is such a perfect stadium structure, and 50 years ago fans were willing to sit in their seats," Dodgers Senior Vice President of Planning and Development Janet Marie Smith told Dodger Insider.  "Today, there is more socialization and people moving around. We wanted to create spaces for that to happen. Last season, we took out the last few rows of seats on each level, and installed drink rails, to create wider concourses and more space to move around."
These renovations follow expansions to the Top Deck and Reserved Level entryways implemented a year ago. The latest alterations are on track for completion in time for the exhibition series against the Angels that begins March 27.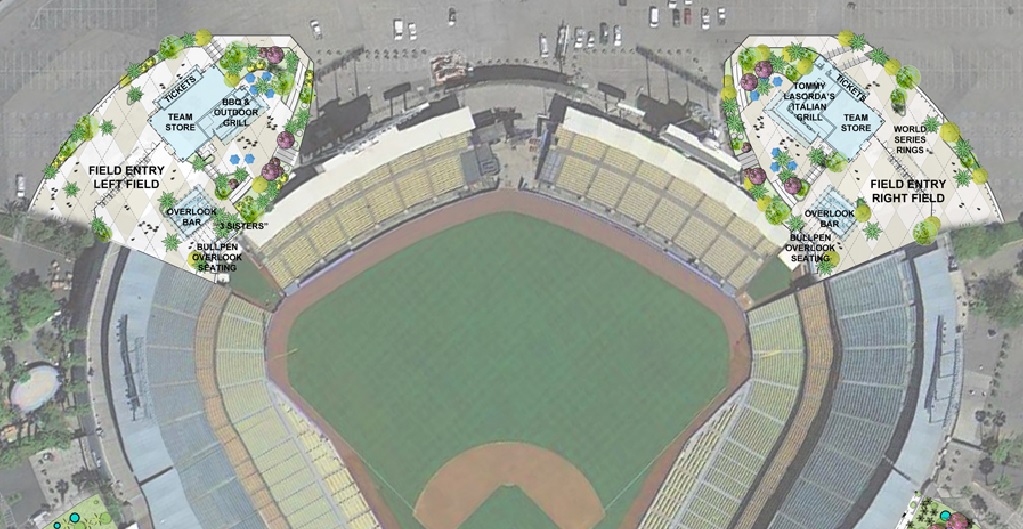 Among other changes, the large tents that have served as retail stores the past several years behind the bullpens will be removed, with new stores relocated in the roomier outfield concourses.
"By getting rid of the tents," Smith said, "we'll have beautiful views of the field as you enter these gates."
There will also be tiered seating in areas overlooking both bullpens, available on a first-come, first-served basis, proximate to bars that will overlook the bullpen as well.
"It was part of what was conceived when (Dodger President and CEO) Stan Kasten first took over, but we just couldn't build everything in one offseason," Smith said. "These bullpen overlooks were always a favorite idea, but they're harder to construct than it seems, because of the need to regrade the whole area to meet ADA requirements.  … (But) one of our goals is to make Dodger Stadium as accessible as possible, so this is another step toward that."
An outdoor barbecue restaurant will be placed behind left field, with a new Tommy Lasorda's Italian restaurant in the concourse behind right field. Big screens will keep those hanging out in the concourses updated on the field action.
Regrading of Lot G behind the outfield will create more ADA-accessible parking. Stadium seating capacity will remain the same. 
The changes at Dodger Stadium will hardly be purely pragmatic. The Dodgers, the only team in baseball with a full-time arborist, are also enhancing the ballpark's landscaping. All 33 trees in the outfield area have been replanted on site, Smith said, adding that Dodger Stadium, the only MLB park certified by the National Audubon Society, will have three times as many trees in the outfield by April as before.
"Not a tree was lost during construction," Smith said. "We've moved some of them to the downtown gate, so that we'd have a more dramatic entrance at the 110, and we've moved others to the Top Deck, so the downtown skyline is framed by this 'very L.A.' landscape.   Every tree and plant was lovingly moved to a new home on the Dodger Stadium site.
"The idea in all of these new plazas has been to bring the greenery of Elysian Park into Dodger Stadium.   As more teams have moved into an urban setting, it makes Dodger Stadium, carved into the hillside of Chavez Ravine and surrounded by the San Gabriel Mountains and all these palm trees, that much more special. So we are trying to enhance that feature and make a big thing out of that landscaping.  We looked at saving these trees, boxing them up and moving them back to their original location. But we decided that was not nearly as smart as using the same amount of money to move them to a new home and to buy new plant material for the renovated areas.  Not only does this double the number of trees, but gives them a better chance of survival."
Meanwhile, the display of the famed "Three Sisters" behind the left-field bullpen will remain.
"The Three Sisters have been moved before and successfully returned to their roost, so we are making plans for that once again," Smith said, noting that with the combination of re-grading and underground utility work, "it just seemed wise to move these trees out of harm's way."   They were carefully pruned, with canopies tied and root balls wrapped before transplanting.
"They'll literally come popping up out of the bullpen overlook in their original location," Smith said. "We're going to build the bars around them, so that the landscaping isn't altered."
The Dodgers intend to create additional opportunities to honor their team history, dating back to Brooklyn, by placing key items at these new entry gates. Time will limit all they can do, in part because of the challenges of working around such events as the Kings-Ducks NHL game January 25 and the Los Angeles Marathon on March 9.
In the meantime, not even visiting teams are being neglected in this year's renovations. Building upon the new visiting batting cage and training room established in 2012-13, the Dodgers will connect a newly modernized clubhouse connected with the same area. The previous visitor clubhouse will be allocated for auxiliary stadium use.