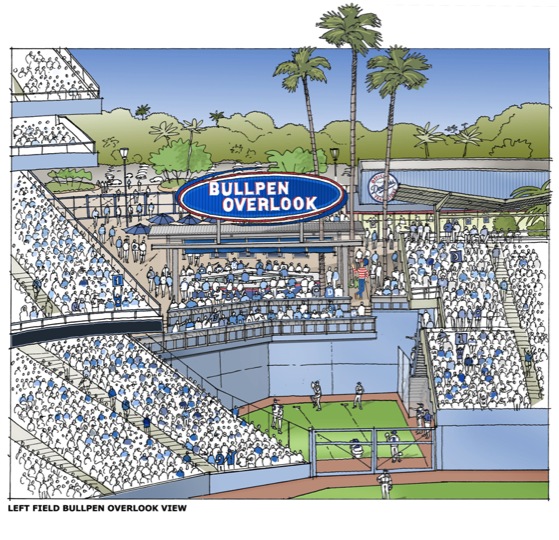 By Jon Weisman
Here's another, hot-off-the-presses rendering of the Dodger Stadium renovations behind the left-field bullpen, part of the changes to the ballpark that were announced Tuesday.
Note that there will be two tiers of first-come, first-serve seating overlooking the bullpen with a view of the infield. (The set-up will be similar behind the right-field pen.) A hexagon-shaped bar, paralleling the big stadium scoreboards, will be complimented by additional drink rails and standing-room spots. Towering over the scene will be the "Three Sisters" palm trees, part of the 99 trees in the Dodger Stadium outfield areas, tripling last year's total.
Toward the entry will be one of the new team retail stores, along with the new open-air barbecue restaurant. (On the right-field side will be the Tommy Lasorda's Italian restaurant). Inside these expanded concourses will also be interactive exhibits showcasing Dodger history.
In 1962, Dodger Stadium pioneered positioning the bullpens so that fans could always see pitchers warming up for either team without placing the bullpens in foul territory, an approach that has been replicated in almost every one of the 27 MLB parks that have opened since.
Said Dodgers President and CEO Stan Kasten: "It is only fitting that we give more Dodger fans a chance to witness this unique perspective of the game with these overlooks."