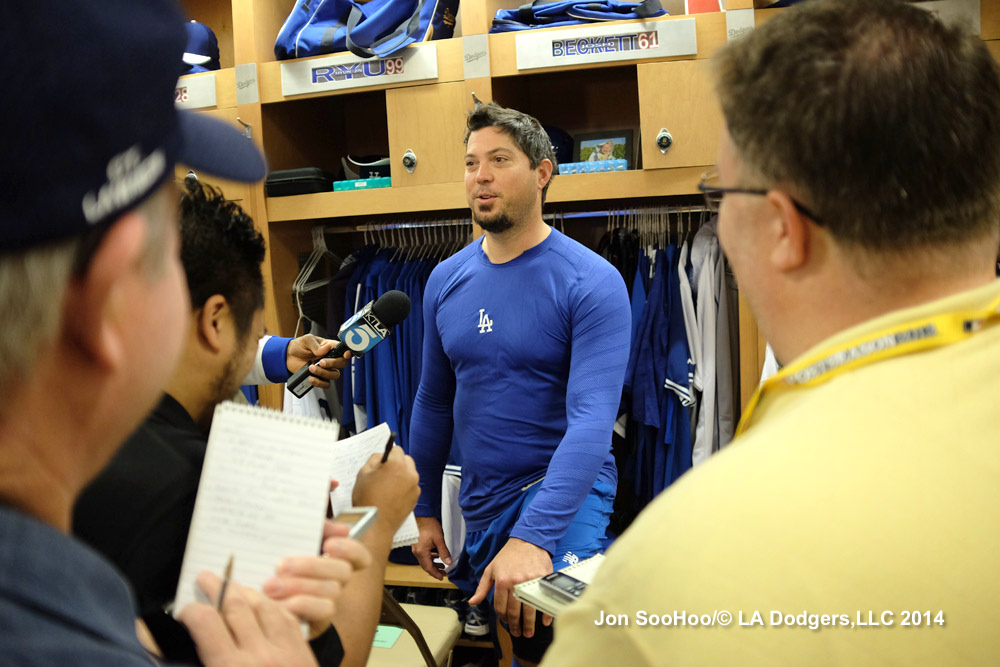 By Jon Weisman
Josh Beckett arrived at Spring Training at the center of a seeming swirl of uncertainty, but don't tell Beckett that.
Ken Gurnick has a detailed report at MLB.com on Beckett's optimism for 2014. An excerpt:


Josh Beckett has texted enough with Chris Carpenter to know that the medical condition they share can end a pitcher's career, as it did Carpenter's.

But Beckett said it won't end his.

The Dodgers right-hander seemed to back that up with his first bullpen session on Monday, throwing 30 pitches free and easy. At no time did Beckett stop to rub the feeling back into numb fingers, as he often did last Spring Training in what proved to be a hint that something was wrong.

Beckett said the thoracic outlet surgery that cut short last season has solved the numbness and tingling he had felt "for years." He said he's ready to reclaim his role in the Dodgers' rotation as the fifth starter, knowing the club has enough doubt about his health that it chased Bronson Arroyo and signed Paul Maholm for protection. …

Read the rest of the story here. Among other revelations is the one that Beckett does not expect to accompany the team to Australia. That would, at least for the first two games, open up a roster spot for another pitcher.

More on Beckett from Dylan Hernandez of the Times and Eric Stephen of True Blue L.A.
Former Dodger second baseman Jeff Kent is volunteering as an assistant coach for the baseball team at Southwestern University. David Brown of Big League Stew blogs about it.
Strikeout percentage (strikeouts per batter faced) is a more valuable statistic than strikeouts per nine innings, argues Ben Humphrey at Viva El Birdos.