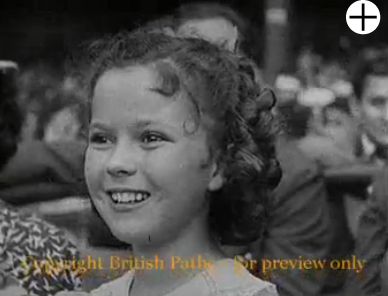 By Jon Weisman
Let's just say this – I knew Shirley Temple before I knew any Dodgers. It wasn't the same with my kids, but when I was a young kid in the early 1970s, the mighty mite was still a huge presence. Heck, I even was watching the grown Shirley in "Fort Apache" with John Wayne.
Shirley Temple Black passed away Monday at age 85. Click the following link to see video of Temple at a 1939 charity comedy-baseball game.
Temple was also featured – or the Temple name and impact, at least – in the Betty Bao Lord book, "In the Year of the Boar and Jackie Robinson."
Shirley Temple Wong sails from China to America with a heart full of dreams. Her new home is Brooklyn, New York. America is indeed a land full of wonders, but Shirley doesn't know any English, so it's hard to make friends. Then a miracle – baseball – happens. It is 1947, and Jackie Robinson, star of the Brooklyn Dodgers, is everyone's hero. Jackie Robinson is proving that a black man, the grandson of a slave, can make a difference in America and for Shirley as well, on the ball field and off, America becomes the land of opportunity.