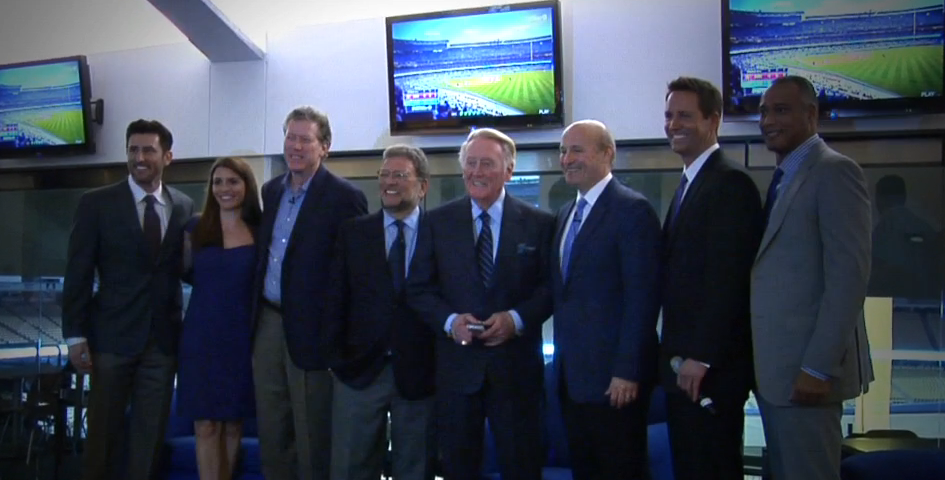 By Jon Weisman
Charley Steiner hasn't gotten that much attention this offseason among Dodger announcers, given the spotlight on the new members of the Dodger broadcast team at SportsNet LA (Orel Hershiser, Nomar Garciaparra, Jerry Hairston, Alanna Rizzo and John Hartung) and the focus that rightfully always falls on Vin Scully.
But Steiner, believe it or not, is entering his 10th season as a Dodger play-by-play man (the only one who does 162 games a year in that role). It's not only a milestone, it also dwarfs his tenure doing New York Yankee games and is beginning to catch up to his long-running stint at ESPN.
I always find Steiner a warm, positive presence, someone who enjoys the game and appreciates it but never takes it excessively seriously. So I took the opportunity before Monday's Town Hall to chat with him for a few minutes.
[mlbvideo id="31355437″ width="400″ height="224″ /]
Steiner is always quick to credit Scully for inspiring his love for radio and career as a sportscaster.
"Radio was the first thing that attracted me to broadcasting," Steiner said, "when I was 7 years old – listening to Vin, in New York."
That's why Steiner has always been comfortable even in years – unlike the coming year – when he has been paired with Rick Monday on radio and hasn't done games for television. But he's happy to switch between the two formats – and is eager to work with Hershiser on TV.
"It's the difference between softball and hardball," he said. "You still have to score runs, and you still have to put people on base. … In television, obviously, the picture tells the story, and in radio, it's your responsibility to paint the picture. So we are backselling a play. Everybody has seen it, then it will be up to Orel to explain why we saw what we just saw, whether it's a pitch or how a team is defending a given player. On radio, we have to do that all in a hurry.
"Orel is a really bright guy, who above and beyond the experience and career he had as a player, has coaching experience, front-office experience, television experience. His baseball IQ is way off the charts. So getting to work with him and getting to learn from him – we've spent a fair amount of time already in the offseason – it's exciting. It's exciting for me, that I'll be able to just basically throw him BP fastballs and listen to him. He's gonna be something."
It won't hurt that the Dodgers figure to be anything but dull in 2014. 
"This is just a wonderful confluence of events," Steiner said. "Ownership. A franchise that has really been reborn. Then you throw into the mix this unbelievable television network that's about to start.
"What I find so remarkable about beginning SportsNet LA is the people we are beginning it with. A: Vin – let's set that aside. But the group that they've put together – Orel and I will get to do a ton of television games, and get to do a little with Nomar. Alanna's a great talent; we all saw her at the MLB network. John Hartung has been in town forever and he's just a perfectly cast quarterback – how's that for a mixed metaphor – for the set. We're working for and with one of the elite, iconic franchises in all of sports. We're starting fresh and new with essentially an All-Star team. It's hard to beat."