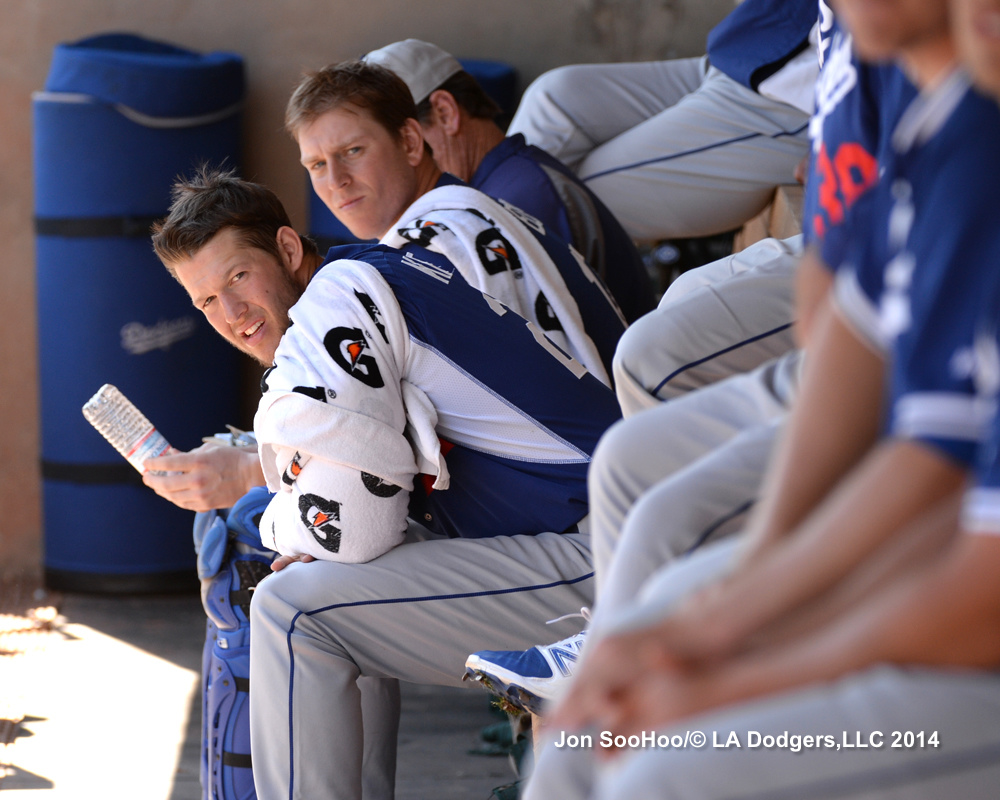 By Jon Weisman
The good news for Clayton Kershaw is, he's healthy.
Not to mention that for the first two innings — six up, six down — of today's 7-3 loss to Oakland, the Dodger ace made last week's start look like every bit the aberration we thought it was. Six up, six down.
Then came a third inning which, as much as anything, was reminiscent of the third inning of Game 6 of the 2013 National League Championship Series.
Kershaw allowed two walks, an RBI single and another walk that loaded the bases. Then former Dodger Nick Punto came up, got ahead in the count and began fouling off pitches, just like Matt Carpenter did in his 11-pitch NLCS at-bat against Kershaw.
Punto won this marathon, singling to right field to drive in two more runs, and Kershaw was pulled mid-inning, ultimately charged with five runs.
And by the sounds of it, he was ready to sentence himself to pitcher jail. From Ken Gurnick of MLB.com:
… "It's not fun to deal with," said Kershaw, who has an 18.00 ERA. "Physically, I feel great. I don't have any excuses. I don't know, searching for answers right now. I know it's Spring Training, it doesn't matter, but it matters to me."

Mattingly said he wasn't panicking.

"The first two innings were really good, then he got out of rhythm and couldn't find it," Mattingly said. "Good thing is, it's Spring Training, that's why we're here. He had the same kind of spring last year. He has a level of expectation of always being good. I don't have a problem with that. He expects to be in midseason form, and we keep working toward that. He gets frustrated. That's why we love him." …
On the opposite end of the spectrum was Seth Rosin, who followed his two-inning, five-strikeout outing Wednesday by tossing three shutout innings with three strikeouts today. That included pitching out of a second-and-third, none-out jam in the fourth inning, thanks to an Adrian Gonzalez throwing error.
"This outing is actually more impressive to me than his first outing," SportsNet LA analyst Orel Hershiser said on the air. "Today, he's facing some adversity, against a team swinging the bat really well, and he's still able to get them out."
Rosin, by the way, was born in 1988, 7 1/2 months after Kershaw and a couple weeks after the Dodgers won the World Series.
Coming in behind Rosin on the highlight reel was Dee Gordon, who had an RBI triple for the second consecutive game, and Andre Ethier and Miguel Olivo, who each had two hits.
[mlbvideo id="31426707″ width="400″ height="224″ /]
The Dodgers still haven't given up a Cactus League homer in 51 innings.
MLB's new instant replay system made its debut. Paul Hagen of MLB.com describes how it went.