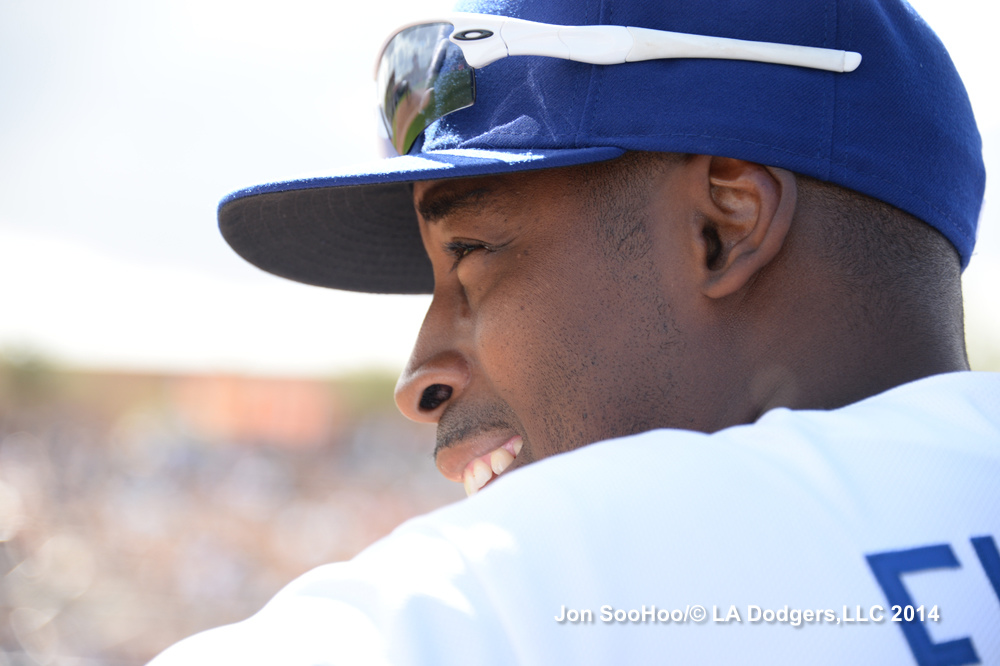 Dodgers vs. A's, 12:05 p.m.
Chone Figgins, 3B
Andre Ethier, CF
Hanley Ramirez, SS
Adrian Gonzalez, 1B
Scott Van Slyke, LF
A.J. Ellis, C
Nick Buss, RF
Miguel Olivo, DH
Dee Gordon, 2B
(Clayton Kershaw, P)
By Jon Weisman
Andre Ethier takes a turn at center field, while the wheel of Chone Figgins lands on third base. At this point, I won't be satisfied unless Figgins plays at least eight positions this spring.
Scheduled to follow Clayton Kershaw on the mound today are Brandon League, Seth Rosin (he of the five strikeouts in two innings Wednesday), Pedro Baez, Carlos Frias and Jarret Martin.
By the way, with Zack Greinke missing his scheduled start Tuesday, that game against the Mariners will become a full bullpen day for the Dodgers, with Brian Wilson scheduled to be the first pitcher. Ken Gurnick has more on Greinke and other less-than-100-percent Dodgers at MLB.com.
One more link for the morning: Matt Kemp just needs those wheels unleashed, because his swing is back, writes Buster Olney of ESPN.com.
Mark McGwire joined the Dodgers as hitting coach more than a year after Matt Kemp nearly won the Most Valuable Player Award in 2011, and the swing McGwire saw last year was very different from the powerful and unusually high finish McGwire recalled from the past.

McGwire explains it this way: A right-handed hitter drives with his left arm — his lead arm – and steers with his right. When Kemp was at his best, he had been able to lift and drive the ball to right-center field. But last year, Kemp still seemed to be recovering from the shoulder surgery he had in the fall of 2012, and McGwire never really saw that classic Kemp finish. Rather, his front arm was noticeably lower in his follow-through, and, instead of lifting the ball, he tended to hit looping liners without much carry, a lingering sign that his repaired shoulder was not yet operating at 100 percent.

On Friday morning, before the Dodgers' exhibition against the White Sox, McGwire saw that old swing again. …