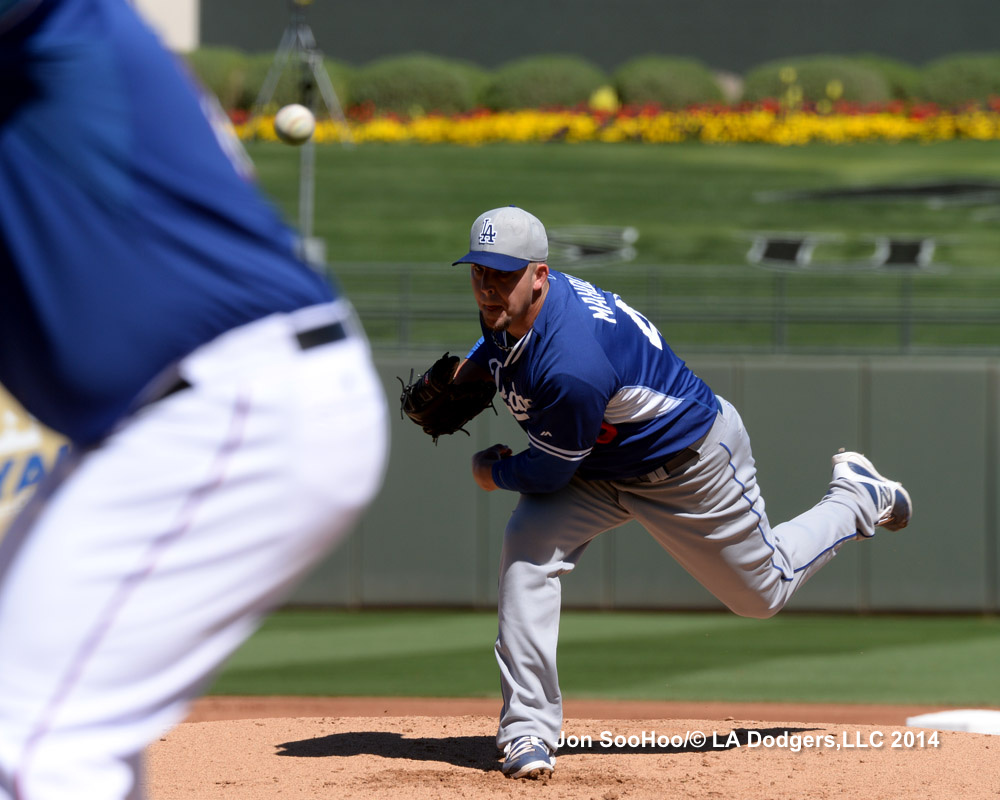 By Jon Weisman
The last time I had this level of anticipation in March for a Dodger season was in Manny Ramirez's brief but shining heyday with the team, and perhaps not even then.
There are the fears, as I briefly alluded to Friday with Hanley Ramirez, that potential could go poof in a moment's broken bone or ligament tear. But it's not every year that the sky's the limit with a team. And with this team, it kind of is.
The possibility of a great pitching performance every night. A lineup that, while not quite Murderer's Row, has strength after strength.
With question marks even so.
And so when I follow these Spring Training games, games that in and of themselves don't mean anything, I see them through the prism of what might happen in the regular season. It doesn't matter that the Dodgers blew a lead in one game Saturday or missed rallying in another. It just makes me play "What if?" over and over again.
Take Joc Pederson, who bridged both split-squad games today. The prospect struck out in all three at-bats in the lidlifter, then absolutely torched two balls in the nightcap: a drive over the fence in center field, 410 feet away, that looked like a home run to my eyes but was called a double, then another shot that was a no-doubt tater. In case we needed the reminder, when Pederson's number is called sometime this year, whatever the month, it could be heartbreak or heroics.
Justin Turner went 2 for 2 with a walk … and an error. Paul Maholm was effective; Josh Beckett, not so much. Seth Rosin had another three innings without allowing an earned run, and still we don't know how exactly there will be a roster spot for him.
Dee Gordon has taken us down this road for a few years now. As much as he might struggle to get on base, the electricity he generates when he does is too much to ignore. Perhaps the truly compelling aspect to Gordon in 2014 is that rather than be demoralized by having his native shortstop position closed off to him, he seems galvanized. Second base seems to suit him, marking a potential new beginning rather than an end.
Certainly, uncertainty remains. Gordon has had better springs than this as precursors to disappointing regular seasons. In the 2012 Cactus League, he had a .446 on-base percentage and .485 slugging, and throughout his exhibition career with the Dodgers, he has stolen 26 bases in 30 attempts. Reality has its way of insinuating itself in unpleasant ways.
But isn't this why we come back to baseball each year? To say, "What if this year is different? What if this year is the one?"  Isn't this why Dodger fans keep burning the candle, 26 years removed from 1988?
Remember this: Every team has weaknesses and anxieties. The best you can have at this time of year is fewer of them than the next team. After that, it's just seeing where the ride takes you.
The Dodgers fell to 4-5-3 in Spring Training (so close to the improbable 4-4-4). And still, this team fills me with anticipation. What if? What if?