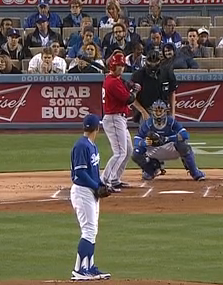 By Jon Weisman
Considering he left the game trailing 4-1 after five innings, Zach Lee can take something positive away from his Dodger Stadium debut tonight.
For one thing, he made his Dodger Stadium debut tonight. Let's not pretend that's not meaningful for an up-and-coming big leaguer.
But beyond that, after giving up a leadoff walk to Kole Calhoun, a single to Albert Pujols and a rock-solid home run to Josh Hamilton in the first inning (and then committing a throwing error to start the top of the second), Lee battled back and showed off some resiliency.
He allowed one run on three hits and a walk over his final four innings, striking out two. He induced inning-ending double-play grounders in the second and fourth innings, along with four other individual groundouts. He finished his night with a perfect fifth inning, capped by getting ahead of Pujols in the count 0-2 on his way to a grounder to second.
Would Lee like that first inning back? Sure. But he's faced Pujols and Co. at a Major League park and lived to tell the tale. Something to take with him as he moves closer and closer to his official big-league debut.