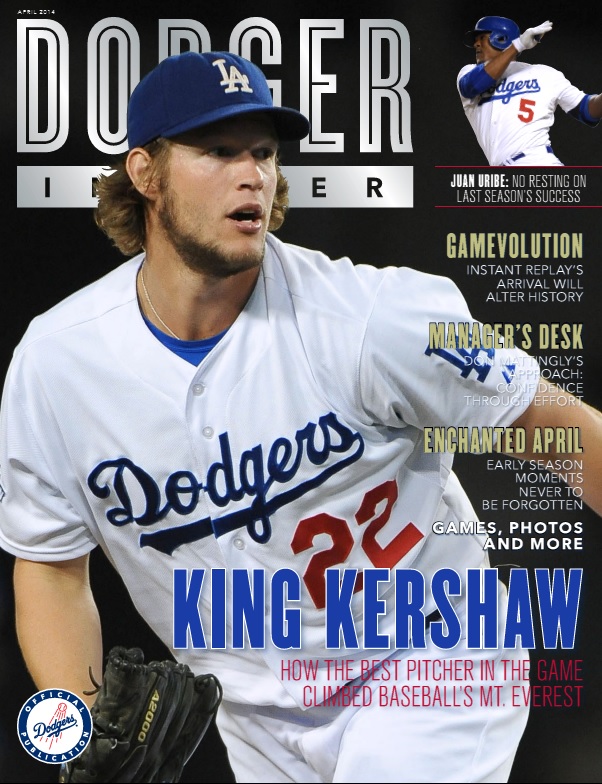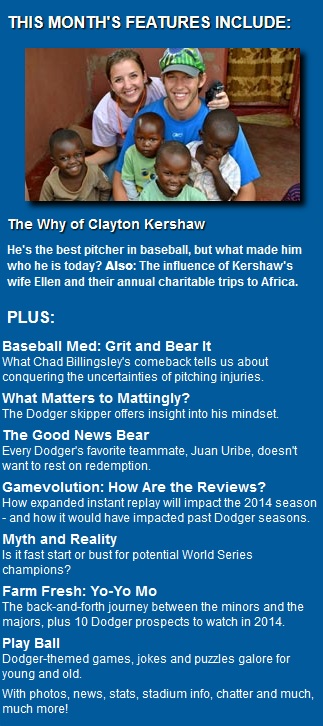 By Jon Weisman
Hanley Ramirez, the cover of our March issue of Dodger Insider, made it through the month healthy, knock on wood, but our April subject wasn't so lucky.
Nevertheless, a terrific package on Clayton Kershaw highlights the next issue of the magazine, which will be on sale at the ballpark beginning with Friday's home Opening Day and also mailed to current subscribers. The digital version of the magazine, which incorporates video elements (and, as I've learned, takes a bit longer to assemble), will be available online soon.
The April issue is filled with great features — the summary at right provides what I would call only a small sampling. There are more than than 30 stories in all, touching nearly every aspect of the organization on and off the field.
You can still see a relevant sample of one of our magazine stories, the Dodger Insider season preview, "Team on a Mission," here.
To subscribe to either the print or digital versions of Dodger Insider, go to our magazine ordering page on Dodgers.com. Print subscribers will begin receiving their subscription the following month, so if you subscribe this week, your first issue will be the May issue.
Print subscribers also receive a free copy of the Los Angeles Dodgers 2014 Yearbook, featuring the special 21-page section dedicated to Vin Scully that is entirely in Scully's words. A digital version of the yearbook that features video of Scully talking about his life and career is also in the works.