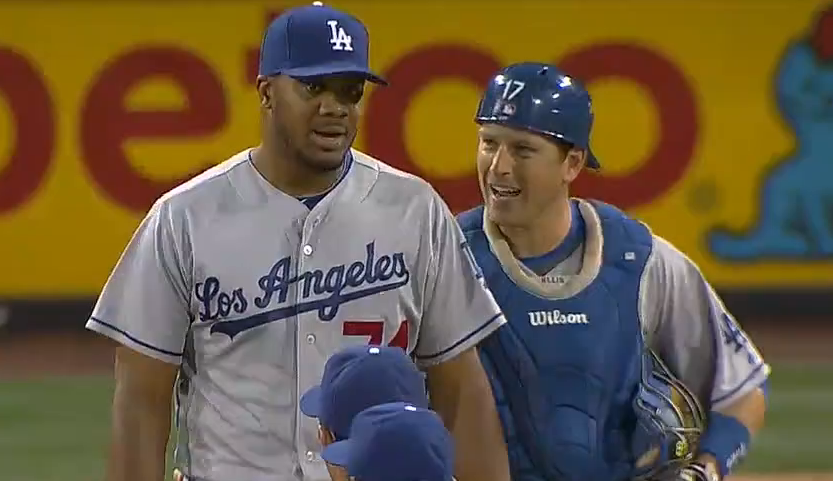 By Jon Weisman
Sometimes life is like a baseball season, and sometimes a baseball season is like a single game, and sometimes a single game is like protecting a one-run lead in the bottom of the ninth with the bases loaded and two out.
The Dodgers are living almost every thread of that journey at once, smack at the intersection of great expectations, fragile health and the narrow margins that life and baseball present.
Clayton Kershaw is out until at least May, maybe longer. Brian Wilson is following him to the disabled list. Zack Greinke is going from retiring the first 10 batters of a game to fighting to get through the bottom of the fifth. And Kenley Jansen is a closer extraordinaire who had to scrape out of a jam of his own making, giving up two hits and a walk before striking out Nick Hundley to cement the Dodgers' 3-2 victory at San Diego.
It's like balancing a book on your head while standing on the head of a pin. Sunday, it didn't work. Tonight, it did.
They'll keep teetering as long as the injuries keep coming, especially the one to their unparalleled ace, which I'm frankly still in denial about.
On the other hand, Yasiel Puig is smashing baseballs, Matt Kemp is close to a return, with Josh Beckett not far behind and Chad Billingsley steadily gaining speed.
Sometimes, your 3-4-5 hitters are 4 for 43 at the plate (with seven walks) through four games, and sometimes your easily dismissed No. 8 hitter is OPSing .962 and working through an eight-pitch at-bat for a decisive RBI single. Sometimes, life gives you lemons, and other times, life gives you both lemons and strawberries and grapes and mangoes.
No sweet without the sour, no sour without the sweet. Welcome back to baseball, welcome back to life.