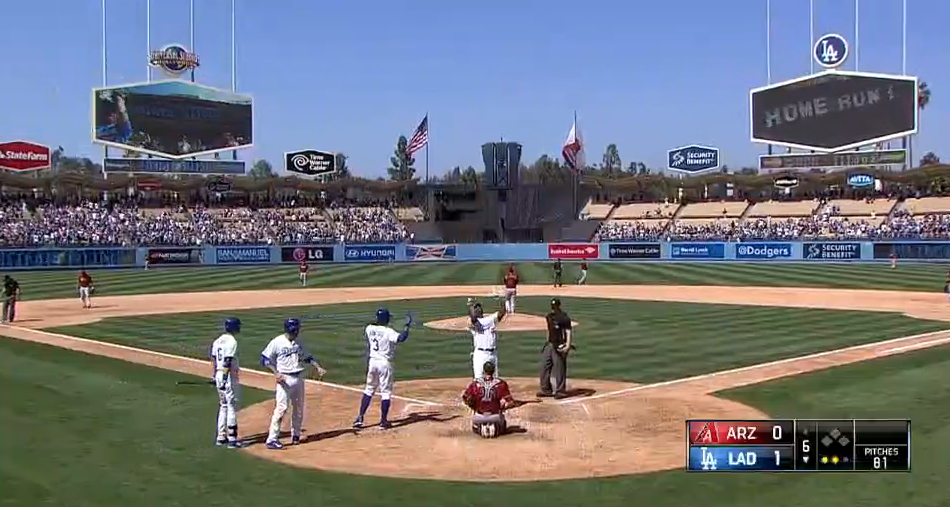 By Jon Weisman
When I posted my picks for the top 10 Dodger home runs of 2013, it was noted to me that Arizona's Josh Collmenter gave up three of the 10 – which was surprising simply from a "What are the odds?" standpoint, as well as the fact that Collmenter allowed only eight in 92 innings last season.
Move forward to 2014, take a stop at today, and Collmenter is back on the mound against Los Angeles. And frankly, he's pitching well. Heading into the bottom of the sixth inning, already his longest outing of 2014, he's faced only two batters over the minimum. He gets a strikeout from an improbable Jamey Wright at-bat. Then Dee Gordon, rapidly becoming a leading candidate for the National League MVP award (Most Valuable Pest), singles to right, leading to the inevitable half-dozen or so pickoff attempts.
Then Carl Crawford hits one down the right-field line, and Dodger third-base coach Lorenzo Bundy's windmilling arm is powering half the Southwest. Gordon lasers around the bases like a "Tron" light cycle, and Crawford slides into third unchallenged. It's a hard-earned run off Collmenter.
The pitcher comes back to get a big pop out from Hanley Ramirez, then makes the logical intentional walk of Adrian Gonzalez. Yasiel Puig comes up.
Puig already had the game's biggest play prior to Crawford's triple. In the second inning, Miguel Montero led things off against Dodgers starter Josh Beckett with a shot down the right-field line. As fast as the vicar said, "I now pronounce you man and extra bases," everyone along the aisles assented it was double and was throwing rice. Puig went down to the right-field corner, and the only reason I paid attention was that it was Puig going down to the right-field corner. He's the only outfielder right now I can think of who would even make the play interesting.
It happens too quickly for this video to truly capture. You need Neil DeGrasse Tyson to explain where that throw comes from.
[mlbvideo id="32239047″ width="400″ height="224″ /]
Amazing.
The next batter, Aaron Hill, lined a shot into Juan Uribe's glove, and you'll have no luck convincing me that if Montero is safe at second, the fates don't send that liner shooting past Uribe into left field for an RBI single.
So here's Puig up at the plate in the bottom of the sixth. He's already made his mark in the game.  Meanwhile, his 2014 offense has not really electrified the grid the way it did in 2013, though it has also been underrated by his .235 average batting entering the game. How many of you realize that Puig, of all people, is second on the Dodgers in walks this season? Even in low-res, Puig has an above-average adjusted OPS.
But still, if you're Josh Collmenter, I bet you're thinking, "Not this time. Not this time."
Hanley Ramirez's 14th-inning tiebreaker on July 10 (followed by A.J. Ellis' blast, back-to-back). Scott Van Slyke's walkoff on September 10. Ellis' division-clincher on September 19.
OK. But not this time.
A called first strike. Not this time.
Then. Boom.
This time came again. For all the frustrations and setbacks that crop up for the 2014 Dodgers, this time never seems that far away.