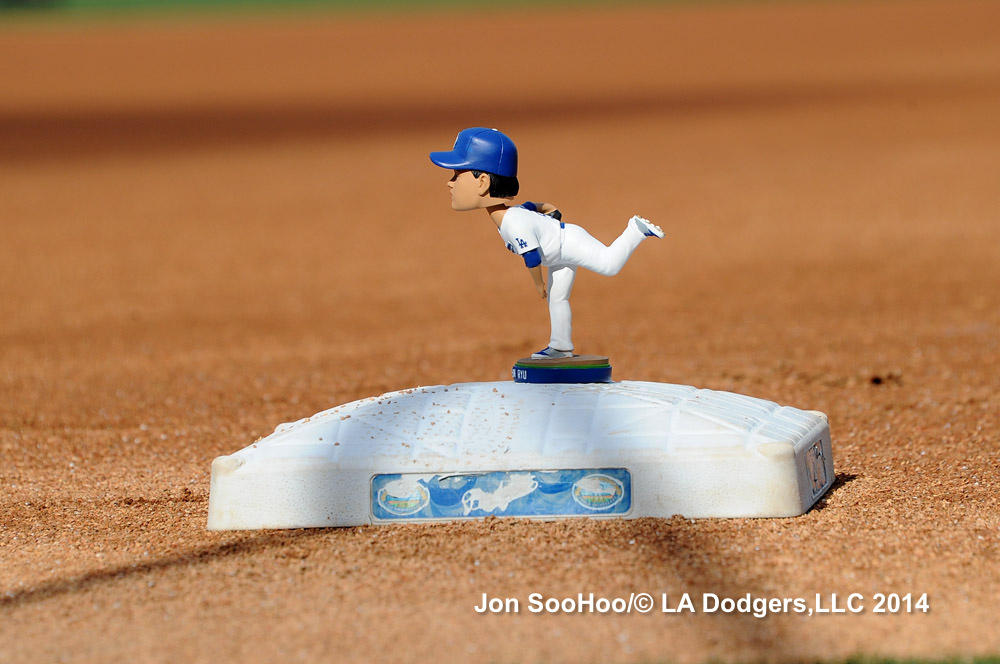 This is not a new backup infielder for the Dodgers. Hyun-Jin Ryu Bobblehead Night is May 27.
Phillies at Dodgers, 7:10 p.m.
Carl Crawford, LF
Yasiel Puig, RF
Hanley Ramirez, SS
Adrian Gonzalez, 1B
Matt Kemp, CF
Juan Uribe, 3B
Dee Gordon, 2B
Tim Federowicz, C
Hyun-Jin Ryu, P
By Jon Weisman
Since Chone Figgins was sent to Albuquerque, I've spent a little time thinking about this four-man bench the Dodgers are using. Normally, a 13-man pitching staff strikes me as excessive, but it's hard to deny that right now, the 25th spot on the roster is better spent on an arm than … well, an arm and all the other body parts that position players use.
The five existing outfielders have the grass portion of Dodger Stadium covered. Juan Uribe, Hanley Ramirez and Adrian Gonzalez aren't coming out for a pinch-hitter anytime soon, and Dee Gordon and Justin Turner have locked up second base. If anyone needs a rest or is knocked out by injury mid-game, Scott Van Slyke can play first, and Turner the rest.
The Dodgers are thin in the pinch-hitting department, but it's also not something they've done much of. In 20 games, the Dodgers have used 29 pinch-hitters — less than two per game. That's not to say that with a deeper bench there wouldn't have been more, but it wouldn't have been much more. Last year, the Dodgers gave 209 plate appearances to pinch-hitters.
Figgins, believe it or not, is the only Dodger pinch-hitter to reach base more than twice this season, and 20 games into 2014, the Dodgers still don't have a pinch-homer, pinch-triple or pinch-double. (They do have a pinch-sacrifice fly, from Justin Turner.)
By comparison, the 2014 Dodgers have gone to the bullpen 79 times, practically four times a game, for a total of 74 1/3 innings. And even the guys who have struggled some this year have an impact by taking away innings that would otherwise stress out the others. In most cases, a pinch-hitter is there for a minute and then gone.
Where the Dodgers could benefit is where every MLB team could benefit. It would be nice if their backup catcher weren't held hostage and chained to the bench by the potential of an emergency. For most games, the backup catcher doesn't exist as an option, meaning that realistically, the Dodgers' four-man bench is actually three. But until the pitching changes decrease, less is probably more when it comes to the bench.
* * *
This is from a couple weeks back, but still worth a look. "Dr. James Andrews explains why Tommy John surgery is on the rise," via Craig Calcaterra at Hardball Talk.
His answer: it's not an anomaly, it's a trend. And an alarming one, he says, in that so many more of the surgeries he's performing are for high school pitchers as opposed to professionals with a few years under their belt. Kids are bigger and stronger these days, and their ability to throw harder is outpacing the development of their ulnar collateral ligaments.

But the biggest risk factor he and his researchers are seeing: year-round baseball. The fact that not only do pitchers throw year-round, but that they are pitching in competition year-round, and don't have time to recover. Also: young players are playing in more than one league, where pitch count and innings rules aren't coordinated. Another factor: the radar gun. Young pitchers who throw over 85 or so are at risk, and all of them who are on a major league track are throwing that fast or faster, and are going up in effort when scouts with guns are around.