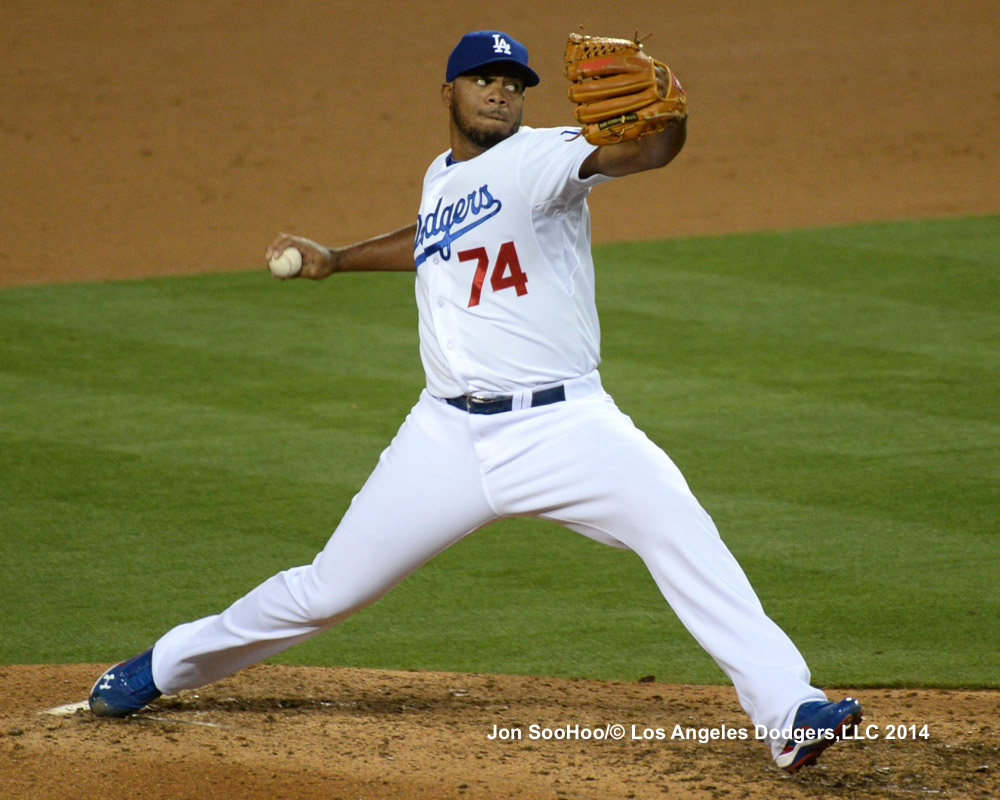 Phillies at Dodgers, 7:10 p.m.
Dee Gordon, 2B
Carl Crawford, LF
Hanley Ramirez, SS
Adrian Gonzalez, 1B
Yasiel Puig, RF
Andre Ethier, LF
Juan Uribe, 3B
Tim Federowicz, C
Dan Haren, P
By Jon Weisman
Speaking to reporters today, Don Mattingly addressed the chatter about the usage of Kenley Jansen, who leads the Majors in appearances, though it is mitigated by the fact that the Dodgers have spread their 23 games over 32 days.
Mattingly said that the Dodgers are monitoring every pitcher's workload, that it's a day-by-day adjustment and that the extra-inning games and some shorter outings by some starting pitchers has had an impact.
Going forward, you might see those factors reverse – there are fewer off days, but the starters are revving up for longer outings.
There's room for debate on how overworked Jansen is. As you can see from his game logs (click the image below to enlarge), though he has all those appearances (and, as Mike Petriello points out at Dodgers Digest, hasn't had consecutive days off since April 10-11), the most pitches he has thrown on consecutive days is 39, and he hasn't worked three days in a row.
Because he's the closer, he's also not someone who has had to warm up and sit down a lot — once he's up, he almost always goes into the game.
In the past eight days since he made 30 pitches in a game at San Francisco, Jansen has thrown 58 pitches, or 7.25 per day. Not incidentally, he's been on his game. In his past four outings, he has faced 14 batters and allowed only two singles while striking out seven. Jansen's K/9 this year is 16.6.