[mlbvideo id="32589679″ width="550″ height="308″ /]
Dodgers at Marlins, 10:10 a.m.
Dee Gordon, 2B
Yasiel Puig, RF
Hanley Ramirez, SS
Adrian Gonzalez, 1B
Matt Kemp, CF
Carl Crawford, LF
Juan Uribe, 3B
Drew Butera, C
Stephen Fife, P
By Jon Weisman
There's a lot to be impressed with from Dee Gordon's tour de force in Saturday's game – the hit after hit, the steal after steal. The greatest play might be his dive to the left of second base and snap throw to third base to nab Casey McGehee.
But looking at the clip of highlights above, I think the most astonishing play might be when Gordon beat out a grounder to first base. Literally to the base. And yes, Garrett Jones' momentum carried him into foul territory in order to field the ball, but still – it was a ground ball to first base.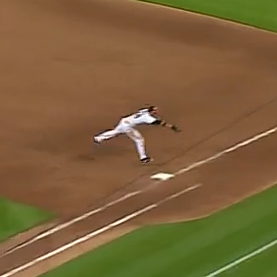 Look where Jones is when the ball goes into his glove.  Would you ever, in a million years, think Gordon is going to make it from the batter's box to first base in time to be safe?
According to Fangraphs this morning, Gordon has been the ninth most valuable player in the Major Leagues so far this season and the third most valuable second baseman. He is the No. 1 baserunner in baseball. He has 19 stolen bases – no other Major Leaguer has more than 12. He has more stolen bases than 13 teams. He has even been above average with the glove.
Second base was supposed to be the Dodgers' problem position. Wow.
* * *
From the Dodger press notes:
According to the Elias Sports Bureau, Gordon is the first Dodger in the modern era (since 1900) with five or more hits and three or more steals in a game. Since 2000, only seven Major Leaguers have had such games, last occurring on Aug. 26, 2008, when Jimmy Rollins went 5-for-7 with three steals, a double, a homer and three RBI for the Phillies vs. the Mets. Carl Crawford, who hit the game-winning two-run homer last night, accomplished the feat on May 24, 2006 for Tampa Bay at Toronto, going 5-for-5 with four steals, five runs scored, a homer and two RBI.