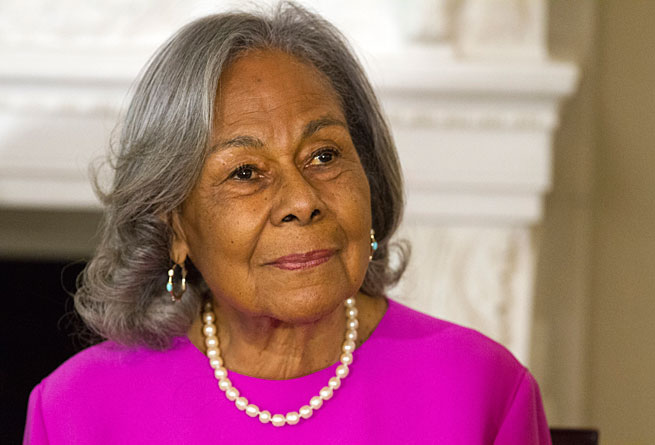 By Jon Weisman
Rachel Robinson and Don Zimmer have been elected to the Baseball Reliquary's Shrine of the Eternals, along with former Cardinal legend Dizzy Dean.
The Reliquary is an organization "dedicated to fostering an appreciation of American art and culture through the context of baseball history," and the Shrine serves as its Hall of Fame.
Robinson has been called "arguably the most important woman in baseball history" by the Reliquary and Jackie's "tower to lean on" by former Dodger executive Branch Rickey.  "She kept her husband's legacy alive after his premature death in 1972 by founding the New York-based Jackie Robinson Foundation, a nonprofit with the mandate of providing college scholarships and leadership training to promising and talented young people," the Shrine added.
Zimmer has spent nearly seven decades in professional baseball, breaking into the Majors with the Dodgers in 1954 and spending seven seasons with the team (1954-59, 1963). Now in his 11th season as a senior advisor for the Tampa Bay Rays, Zimmer also serves as a member of the advisory board of the Baseball Assistance Team.
Dean was named on 37 percent of this year's ballots, followed by Zimmer at 33 percent and Robinson at 31 percent. Former Dodger outfielder Glenn Burke narrowly missed election, coming in at 27 percent. The three electees will be inducted at a ceremony July 20 at the Donald R. Wright Auditorium in the Pasadena Central Library.
Past inductees are: Jim Abbott, Dick Allen, Roger Angell, Emmett Ashford, Moe Berg, Yogi Berra, Ila Borders, Jim Bouton, Jim Brosnan, Bill Buckner, Roberto Clemente, Steve Dalkowski, Rod Dedeaux, Jim Eisenreich, Dock Ellis, Eddie Feigner, Mark Fidrych, Curt Flood, Ted Giannoulas, Josh Gibson, Jim "Mudcat" Grant, Pete Gray, William "Dummy" Hoy, Shoeless Joe Jackson, Bill James, Dr. Frank Jobe, Bill "Spaceman" Lee, Roger Maris, Marvin Miller, Minnie Minoso, Manny Mota, Lefty O'Doul, Buck O'Neil, Satchel Paige, Jimmy Piersall, Pam Postema, Jackie Robinson, Lester Rodney, Pete Rose, Casey Stengel, Luis Tiant, Fernando Valenzuela, Bill Veeck, Jr., Maury Wills, and Kenichi Zenimura.