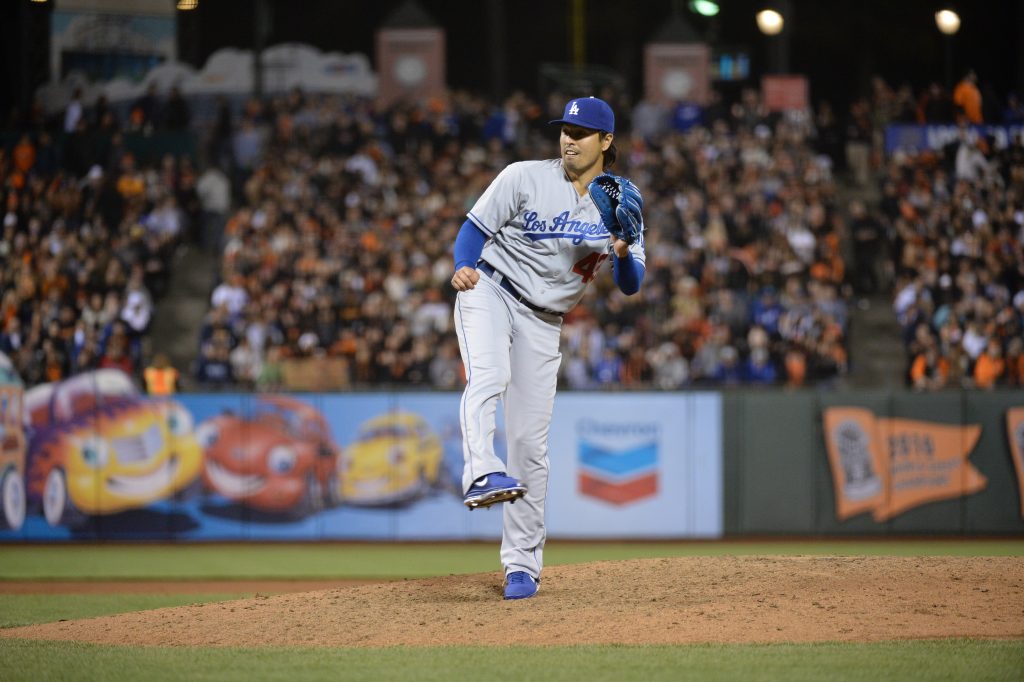 By Jon Weisman
I'll admit, there have been times when I've thought I'm the naive one for not giving up on a player. But then came Juan Uribe. And now comes Brandon League.
A pitcher that a number of Dodger fans were rooting for to be released, who allowed 87 baserunners and a 5.30 ERA in 54 1/3 innings in 2013 and half of his inherited runners to score, has now thrown 16 1/3 consecutive innings without allowing an earned run, stranded seven of eight inherited runners and been unscored upon in 12 of 14 appearances in 2014.
Here's a game-by-game look at the 10 appearances that have encompassed his scoreless streak, followed by what passes as analysis from me (with help from Baseball-Reference.com).
April 16: Leadoff single followed by a 4-6-3 double play.
April 18: Entered in ninth inning of tie game with one out and runners on first and second, and induced two groundouts. In 10th inning, allowed an infield single, then got a strikeout. Paul Goldschmidt then reached on catcher's interference, but League induced a 6-4-3 double play.
April 21: Pitched a perfect sixth inning, then allowed a one-out single in the seventh to Ryan Howard but stranded him there.
April 25: Entered in the top of the 11th with the Dodgers trailing, 3-2, one out and runners at the corners. League walked Troy Tulowtizki, gave up an RBI single to Justin Morneau and then got a 1-4-3 double play.
April 27: Pitched a perfect two innings with two strikeouts.
[mlbvideo id="32748889″ width="550″ height="308″ /]
May 1: Entered in the bottom of the fifth with two out and runners on first and second, Dodgers trailing, 1-0. Joe Mauer grounded into a 6-4 forceout to end the fifth. In the sixth, Trevor Plouffe reached second on a Juan Uribe throwing error, then scored an unearned run on a Chris Colabello single. The next three batters went popout, 5-4-3 double play, 1-3 groundout.
May 3: Entered in the bottom of the 10th inning of a 7-7 tie. Adeiny Hechavarria reached second on an infield single and Dee Gordon throwing error. League intentionally walked Giancarlo Stanton, then induced a 4-6-3 double play of Casey McGehee before striking out Marcell Ozuna. After Carl Crawford's two-run homer, League then pitched a perfect 11th, striking out Jarrod Saltalamacchia to end the game.
May 5: Entered after a rain delay in the bottom of the fourth and pitched a perfect inning with two strikeouts. Allowed two singles to start the fifth, but got a double-play grounder and then a Jayson Werth groundout to end the inning.
May 9: With runners on first and second and two out in the top of the sixth, League came in to get Brandon Hicks to pop out. He then allowed three singles to start the bottom of the seventh, but a 1-2-3 double play and a (rare) fly to right ended that threat. League then pitched a perfect eighth on three groundouts.
May 13: Pitched a perfect eighth inning, then withstood a two-out infield single in the ninth to end the game, striking out a batter in each inning.
Say, did you notice the double plays? In those 10 games, he got seven of them. For the year, League is actually tied for the fourth in the National League in most double-play grounders with eight, despite pitching in only 21 2/3 innings.
He has also induced three more double-play grounders than any other reliever in baseball. Think about it: League has allowed 13 baserunners to reach base during his streak, but more than half have been eliminated by the double play.
The batting average on balls in play against League in 2014, .283, has been just below the NL average of .296. And League's strikeout ratio remains pretty modest: 5.5 strikeouts per nine innings during the streak. But he's getting 3.4 grounders for every fly. Against 54 batters, he hasn't allowed a single extra-base hit, and only five balls have been caught by outfielders.
Call it a coincidence, but note the increased use of his sinker compared with 2013, according to Brooks Baseball.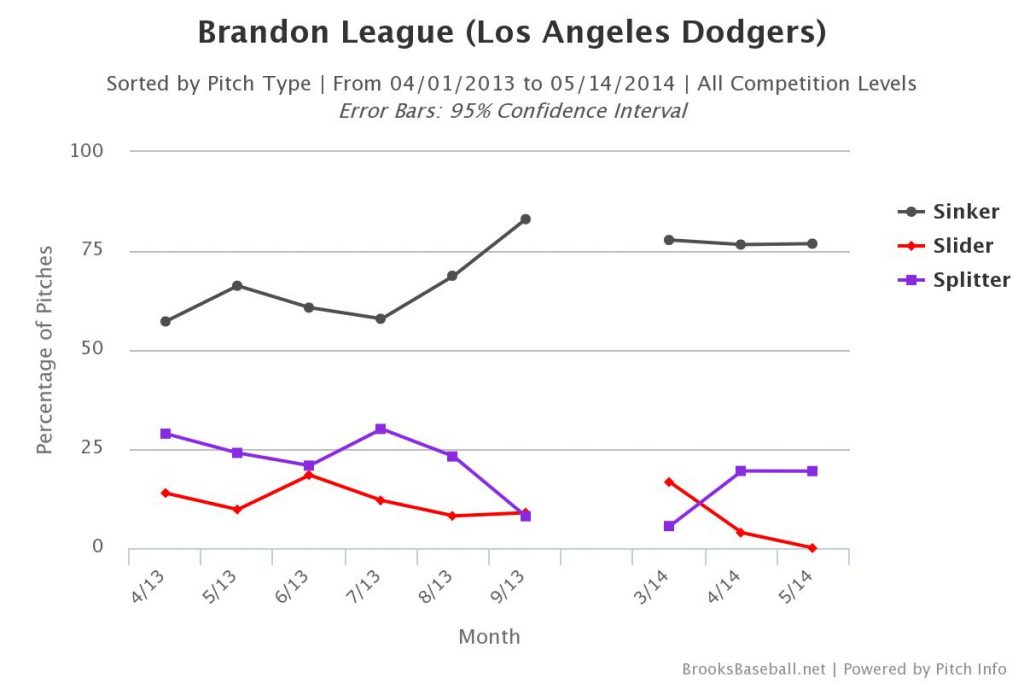 In any case, it's led to much improved numbers in 2014, as this breakdown of his Dodger career illustrates.

A few more seeing-eye singles instead of double plays could affect his numbers in a hurry. But to say the least, during his streak, Brandon League has avoided the big blow. And that's how you turn things around.