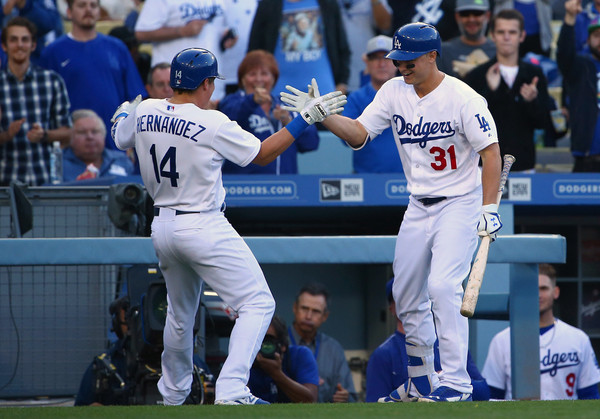 If the Dodgers had nothing more than a platoon of Kiké Hernández and Joc Pederson entering the season, I'd be fine with the Dodgers in left field.
In a typical Dodger batting order, left field might basically be the No. 7 spot. If Logan Forsythe bounced back from his 2017 struggles at the plate, the left fielder could bat as low as eighth.
Chris Taylor, CF
Corey Seager, SS
Justin Turner, 3B
Cody Bellinger, 1B
Yasiel Puig, RF
Austin Barnes/Yasmani Grandal, C
TBD, LF
Logan Forsythe, 2B
You don't want left field to be a black hole in the lineup — certainly, by the time the postseason race heats up, you don't want any black holes in the lineup. But entering the season, the Dodgers are in fine shape with Hernández, who in his career has an .883 OPS with 19 homers in 382 at-bats against left-handed pitching, and Pederson, who has OPSed .823 against righties with 54 homers in 953 at-bats (23 homers per 400 at-bats).
Each player has gone through an extended slump in his career, but both recalibrated by last October — in the glare of the postseason, no less. And, both Hernández and Pederson will be 26 years old for most of the season. It might seem like they've been around for a while, but they're just entering prime time.
In particular, Pederson is a buy-low candidate. His contact rate has improved each of the past three years. His on-base percentage was a career-worst .331 in 2017, but his batting average on balls in play (.241) was the unluckiest of his three full seasons in the majors. In his poorest year, Pederson's OBP was only .023 behind Chris Taylor in Taylor's best year.