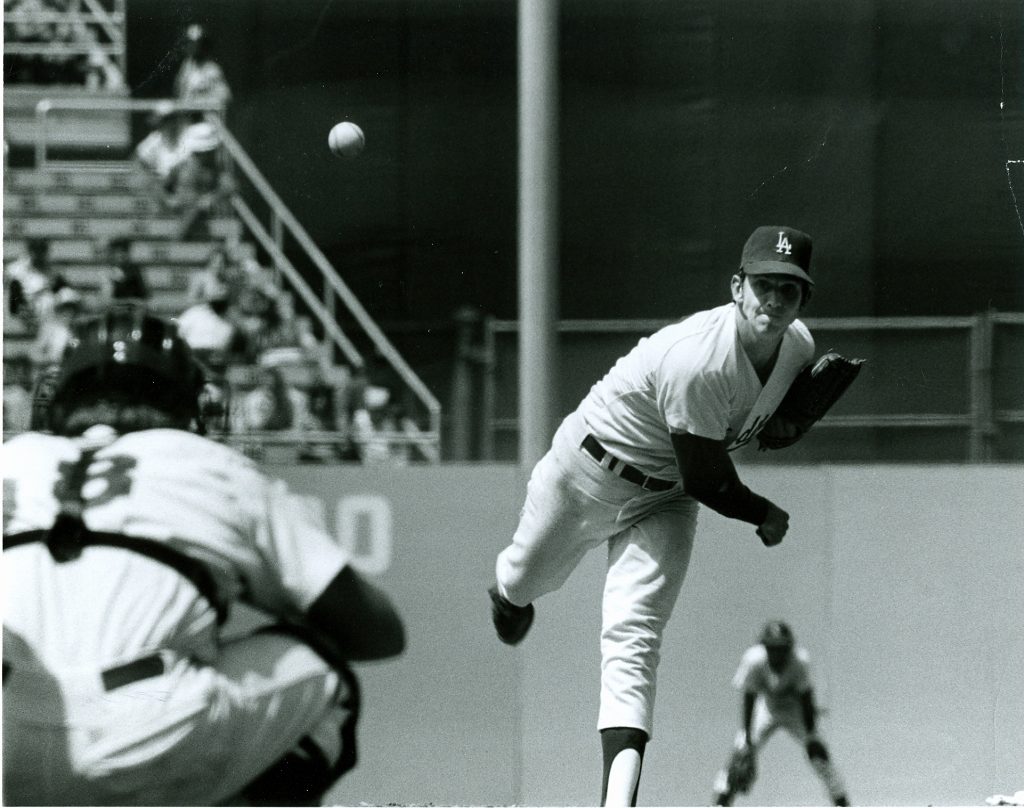 By Jon Weisman
Nine years before Fernando Valenzuela dazzled as a starting pitcher, a 27-year-old Don Sutton had a season to remember. But because Sutton was a seven-year veteran by then, I'm not sure anyone does.
Until Johnny Cueto bested him this year, Sutton was the only pitcher since the 1960s to finish his first nine starts of the season with an ERA below 1.50 and opponents' batting average below .150, according to Katie Sharp of ESPN Stats & Information.
Coming about two years before the Dodgers began to take hold of my consciousness, I wasn't aware of Sutton's phenomenal start to 1972. In fact, it goes even beyond the above and ventures into the Fernandomaniaesque.
In early June, Sutton was 8-0 in 10 starts with a 1.14 ERA, allowing 62 baserunners against 61 strikeouts while averaging 8.6 innings per start. That included three shutouts, two other complete games and this May 7 gem: 10 innings of one-hit shutout ball at Montreal, before the Dodgers lost on an unearned run in the 13th.
In that game, Sutton faced 34 batters. Five reached base, three were struck out and there was one double play, meaning that Sutton retired 25 batters in a single game on balls in play. You would never see that today.
Sutton's season ERA in 1972 (which lost about 10 days' worth of games at the start because of a labor dispute) didn't creep above 2.00 until July 2, when Willie McCovey hit a seventh-inning grand slam off him at Candlestick Park. He then quickly brought his ERA back to the 1s, before it went past 2.00 for good in this even wilder August 2 game against the Giants, when Sutton allowed six runs in the sixth, including a three-run homer by Bobby Bonds.
(Trivia aside No. 1: After Sutton was knocked out, Los Angeles came back to win the game, 12-11, on a walkoff homer by Bill Russell, who reached base in all five trips that night. It was one of two walkoff homers in Russell's 18-year MLB career.)
(Trivia aside No. 2: That game was the first time in Dodger Stadium history that both teams scored at least 11 runs, becoming the highest-scoring one-run game ever at the ballpark.)
(Trivia aside No. 3: The highest-scoring one-run game in Dodger Stadium history was my wedding night. On April 29, 2000, just a couple of miles from where we said "I do," the Dodgers were holding off the Marlins, 13-12.)
Sutton finished the 1972 season 19-9 with a career-best 2.08 ERA and 162 ERA+ in 33 starts, averaging 8.3 innings per start, leading the National League in shutouts and WHIP. Somehow, he finished tied for fifth in the NL Cy Young voting, though a look back at the season through the lens of Fangraphs puts Sutton behind only Steve Carlton, who famously went 27-10 with a 1.97 ERA for a Phillies team that overall was 59-97 (30-85 when Carlton didn't start).
Sutton's 1972 season was, by one measure, the best season any Dodger pitcher had in the 1970s. And I really had no idea.