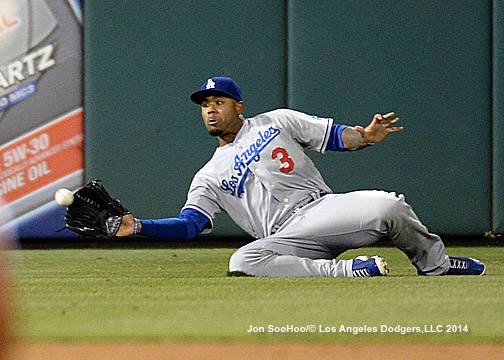 Jon SooHoo's Friday shoot can be found at the LA Photog Blog.
Dodgers at Phillies, 12:05 p.m.
Dee Gordon, 2B
Yasiel Puig, RF
Hanley Ramirez, SS
Adrian Gonzalez, 1B
Carl Crawford, LF
Andre Ethier, CF
Justin Turner, 3B
A.J. Ellis, C
Dan Haren, P
By Jon Weisman
In addition to his key diving catch in the seventh inning Friday, Carl Crawford singled and homered, raising his OPS since May 3 to 1.097.
He is 22 for 53 with a double and four home runs in his past 16 games (13 starts). Crawford has tied Hanley Ramirez and Adrian Gonzalez with four home runs this month, trailing only Yasiel Puig's seven, and he is second behind Puig in May OPS (.971).
Crawford is still walking at a low rate – 3.6 percent of his plate appearances – though this isn't that big a change. His career walk rate is 5.3 percent and his career-high is 7.6 percent in 2009. Puig, by comparison, walked 8.3 percent of the time last year and has done so 11.7 percent this year.
* * *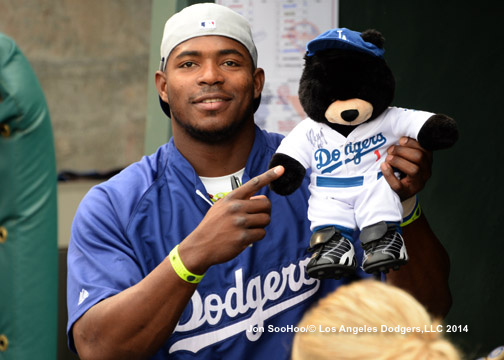 Yasiel Puig is now the No. 4 player overall in the Majors, according to Fangraphs, and No. 2 offensive player.
Puig trails only Troy Tulowitzki in on-base percentage and Tulowitzki and Giancarlo Stanton (by a hair) in slugging percentage.
Puig is fifth in the National League in walks this month with 15 and leads the NL in OBP (.516) in May.
* * *
Dee Gordon has more stolen bases in May (15) than any NL team this month. Gordon, who stole 13 bases with a .375 OBP while starting 21 games in April, has someone stolen 15 bases despite a .307 OBP while starting the same number of games in May