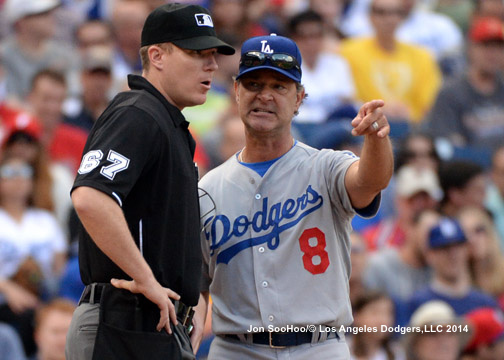 Saturday in Jon SooHoo can be found at the LA Photog Blog. 
Dodgers at Phillies, 10:35 a.m.
Dee Gordon, 2B
Carl Crawford, LF
Yasiel Puig, RF
Adrian Gonzalez, 1B
Andre Ethier, CF
Justin Turner, 3B
Drew Butera, C
Erisbel Arruebarrena, SS
Dan Haren, P
By Jon Weisman
Don Mattingly told reporters in Philadelphia today that Hanley Ramirez's lower calf injury is continuing to receive treatment but that an MRI could be in the future.
Mattingly said he didn't want to speculate yet on whether Ramirez, who missed Friday's game and was a late scratch Saturday, would go on the disabled list.
Mattingly didn't rule out Hanley's injury being an Achilles injury. More tests to come in LA.

— David Vassegh (@THEREAL_DV) May 25, 2014
As for Matt Kemp, also out of the starting lineup for the third game in a row (but a pinch-hitter Saturday), Mattingly said he will be worked in left field as well as center. Mattingly said Kemp would participate and that it wouldn't be an issue, and that Kemp remained a big part of the team, but that Mattingly likes Ethier's routes in center field, even if Ethier isn't a prototypical center fielder from a speed standpoint.
* * *
After the Dodgers' 5-3 loss to the Phillies on Saturday, Don Mattingly and A.J. Ellis spoke about Ellis' key first-inning error. From Michael Radano of MLB.com:
"For me that's just physical," Mattingly said. "That's a tough play. It's get over to that wall and then its one step one way or another. That's just physical, not mental. That's a tough, tough play. For me it's a tweener play."

"I just missed it," Ellis said. "It's just a bad defensive play by me and I put my team in a tough spot. Gave that team extra outs and then you give a Hall of Fame-caliber hitter an extra swing. I put Dan in a bad spot there and I feel awful about it."
And here are Ellis, Mattingly and Dan Haren about Haren's fifth-inning, two-base throwing error on Ben Revere's bunt.
"Pretty clearly, you could tell after Dan picked the ball up, he didn't have anywhere to throw the ball," catcher A.J. Ellis said. "That's usually a pretty clear indication that the runner is inside the baseline."

"When I got the ball he was inside the line," Haren said. "I didn't really have anywhere to throw. I made a really bad throw. In hindsight, I probably should have just thrown at him and hit him with the ball. Then, umpires will call it more often than not. There was definitely no lane for me to throw, I know that."

"That's pretty cut-and-dry," Mattingly said. "I don't need to expand on it.
Ellis talked to Bill Plunkett of the Register on how they turned Haren's performance around Saturday after a rough start.
"We had a good talk after that second inning," Ellis said. "We decided to just basically scrap the game plan, re-invent it. We used his split a ton, used more curveballs than maybe he normally would. That made his fastball a little more effective. We kind of picked-and-choosed our spots. It looked like they were ready for him. They got a lot of looks at him last year when he was with the Nationals."
* * *
Here's another ode to the greatness of Zack Greinke, from Joe Lemire for Sports on Earth.
Greinke, 30, has such a reputation for thoughtful preparedness among his peers that choosing the Dodgers in free agency prompted another pitcher to prioritize the club.

"I know Greinke did his homework, and he probably knew something," said reliever J.P. Howell last spring. Howell, who signed a one-year contract for the 2013 season just days after Greinke inked his six-year deal, continued, "He wasn't the ultimate reason, but the fact that he picked here says a lot. I know he's studying all these teams and trying to figure out which is the best fit. He saw something in these guys."

Greinke studied organizational depth charts and considered which franchises had the best chance to be annually competitive for the length of his contract. That Howell followed suit means, in other words, that Greinke is comparable to the better prepared half of a high school lab partnership. "That's right, I'm cheating off his sheet right now," Howell admitted with a laugh.