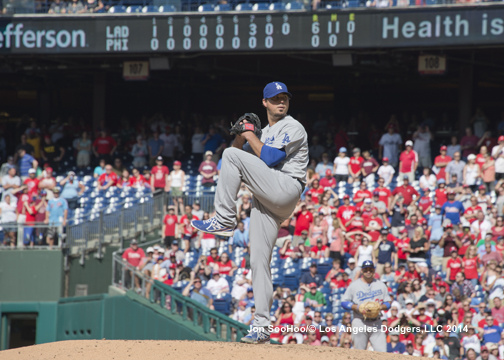 Reds at Dodgers, 5:10 p.m.
Dee Gordon, 2B
Carl Crawford, LF
Yasiel Puig, RF
Adrian Gonzalez, 1B
Andre Ethier, CF
Justin Turner, 3B
Drew Butera, C
Erisbel Arruebarrena, SS
Hyun-Jin Ryu, P
By Jon Weisman
Here's a bunch of news, notes, links and quotes in the afterglow of the past 24 hours:
Beckett's no-hitter, in case you didn't notice, was the Dodgers' first complete game of the season and first since Hyun-Jin Ryu threw an eight-inning complete game in a 2-1 loss to Colorado on September 16. The Dodgers hadn't had an individual shutout since Zack Greinke's two-hit masterpiece on July 13.
At age 34 and 10 days, Beckett is the third-oldest no-hit pitcher in Dodger history, behind Sal Maglie (39) and Dazzy Vance (34 and 193 days).
Beckett's game score of 90 Sunday is tied for 10th best for the Dodgers this century. Chan Ho Park has held the No. 1 spot since 2000, with his 13-strikeout two-hitter on September 29 that year.
Oh, heck, while we're at it, here are the top game scores in Los Angeles Dodger history. You'll not be shocked at who is No. 1.
Sunday, the Dodgers used only nine players (or what I've always called a "perfect lineup") for the first time since July 2 and for only the 10th time in a National League game since 2000.
The last time, by the way, that the Dodgers used only nine players in a loss was September 11, 1998 at San Diego.
The Cubs have not been no-hit since Sandy Koufax's perfect game – a streak of 7,711 consecutive games – according to Bill Chuck at Gammons Daily.
Chuck also has a brief deconstruction of Beckett's pitches during the no-hitter.
John Sickels looks back at the career of Josh Beckett from draft day to the Majors at Minor League Ball.
Beckett "said Thursday that he and a few teammates recently used the PITCHf/x tool at BrooksBaseball.net to find out the fastest pitches they've ever thrown," according to Jerry Beach in a piece for Sports on Earth.
Colin McGowan on Beckett at Sports on Earth:


He was slightly sheepish after the game, claiming he didn't have no-hit stuff, but had managed to keep the Phillies hitters guessing. That comment is something worth reading into, because it seems to betray how Beckett is measuring himself at this stage of his career. He is, every time he steps on the rubber, aware that the ball doesn't do the same things it did when he was 26. The fastball has less violence to it, the breaking balls flatten out more frequently. There was nothing wrong with his stuff on Sunday — he made some Phillies look foolish — but Beckett feels like he's merely getting the job done, not near-effortlessly blowing through lineups. This makes him uneasy, either because it's a harbinger of his arm going dead for good or because it was simply more fun to throw 110 pitches and feel 98 of them zip out of your hand just the way you imagined they would.

Ryu has issued 19 unintentional walks in his past 20 starts, notes Eric Stephen of True Blue L.A.
Ryu has allowed 13 earned runs in 13 home innings this year, compared with two earned runs in 32 road innings.
Erisbel Arruebarrena went 2 for 4 with an RBI and no strikeouts Sunday, making him 3 for 10 with a walk so far in the Majors. He also looks like he could field and throw to first blindfolded.
Drew Butera is the first Dodger to catch a no-hitter and pitch in the same season, at least in the modern era. It was Butera's second career no-hitter behind the plate – the author of the first, Francisco Liriano, is scheduled to pitch at Dodger Stadium on Friday.
Dee Gordon locked up his second career 1-30 season by stealing his 29th and 30th bases Sunday. He hit the home run April 8 against Detroit. Gordon has stolen 11 bases in a row without being caught.
Yasiel Puig has reached base in 26 straight games.
From Stats, LLC, via the Dodgers' public relations department: "

The Dodgers have gone 11-4 (.733) in their last 15 Memorial Day games since 1997, the best record in the Majors in that span."

Manny Ramirez signed a deal with the Cubs' Triple-A affiliate in Iowa to be a player-coach. Matt Meyers has more on this at ESPN.com.