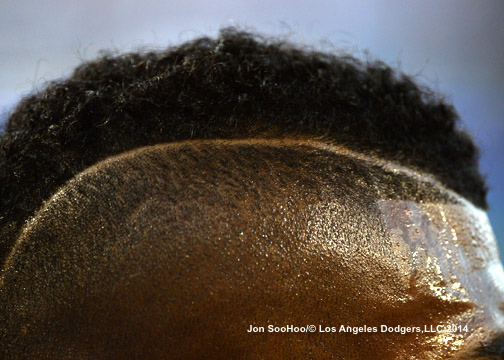 For more highlights from Thursday, check Jon SooHoo's LA Photog Blog.
Cardinals at Dodgers, 7:10 p.m.
Dee Gordon, 2B
Yasiel Puig, RF
Adrian Gonzalez, 1B
Matt Kemp, LF
Scott Van Slyke, CF
Juan Uribe, 3B
A.J. Ellis, C
Miguel Rojas, SS
Hyun-Jin Ryu, P
By Jon Weisman
Andre Ethier is getting a rest day even though the Dodgers are facing a right-handed pitcher.
"Just to give Dre a little bit of a break," Dodger manager Don Mattingly said before the game. "He's had some bumps and bruises. Just a day."
Ethier has had a rough June, though he's not alone among Dodger outfielders in slumping from his usual totals. Ethier has a .246 on-base percentage and .215 slugging percentage in 69 plate appearances, with one double and no home runs.
Yasiel Puig (top of head pictured above), who needs a push in the six remaining days of All-Star voting to retain his spot atop the National League outfield list, has a .306 OBP and .310 slugging  with five doubles and no home runs. Carl Crawford, of course, hasn't played this month because of his ankle injury.
Matt Kemp has a .888 OPS with three homers in June, while Scott Van Slyke has a 1.060 OPS with two homers this month.