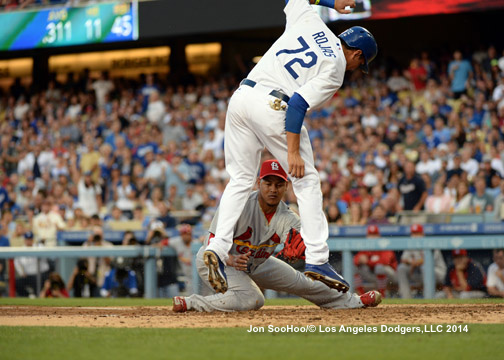 For more highlights from Friday, check Jon SooHoo's LA Photog Blog.
Cardinals at Dodgers, 4:15 p.m.
Dee Gordon, 2B
Yasiel Puig, RF
Adrian Gonzalez, 1B
Matt Kemp, LF
Andre Ethier, CF
Justin Turner, 3B
A.J. Ellis, C
Miguel Rojas, SS
Zack Greinke, P
By Jon Weisman
Tampa Bay has a four-game winning streak this year. So does San Diego. So do the Chicago Cubs and a bunch of other mediocre and disappointing teams.
So I'm not sure why anyone should care that the Dodgers don't have a four-game wininng streak in 2014, any more than anyone should care whether the Dodgers win a game by scoring four runs in one inning or six runs in six different innings.
Pennants are not won on the basis of the number of four-game winning streaks you have. That the Dodgers don't have one this year is a statistical fluke, signifying nothing.
What matters is that the Dodgers have the second-best record in the National League West, the third-best record in the NL and the sixth-best record in MLB, and are in striking distance of the top in all three categories.
If you need a source of streaky comfort, take this. They have no four-game losing streaks either. In fact, the 2014 Dodgers are 24-12 after any loss and 9-2 after any two losses in a row. That might not mean anything, but it sure means more than the trivia of an 0-6 record when they've won three games in a row.