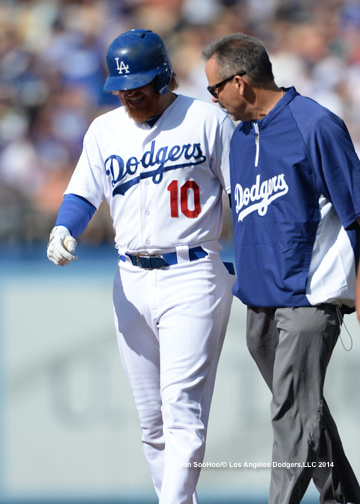 By Jon Weisman
As expected, the Dodgers placed Justin Turner on the 15-day disabled list with a left hamstring strain and recalled Carlos Triunfel from Albuquerque. Triunfel had been optioned only three days ago to make room for Juan Uribe's return from the DL.
Hanley Ramirez remains on the active roster, but Miguel Rojas is in the starting lineup at shortstop today for the Dodgers. Ramirez has played two innings since Monday, going 1 for 1 with a walk on Saturday.
Turner, a non-roster invitee to Spring Training this year, has a .444 on-base percentage and .593 slugging percentage in 90 plate appearances since May 22.
Update: Don Mattingly told reporters today that Ramirez is not available today because of his left calf issue, and that the team has had discussions about whether to put him on the disabled list and bring him back after the All-Star Break.