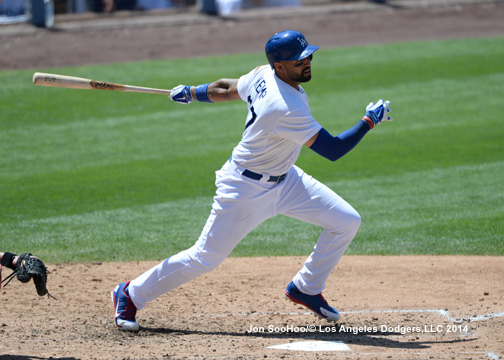 Indians at Dodgers, 7:10 p.m.
Dee Gordon, 2B
Yasiel Puig, RF
Adrian Gonzalez, 1B
Matt Kemp, LF
Andre Ethier, CF
Juan Uribe, 3B
A.J. Ellis, C
Miguel Rojas, SS
Dan Haren, P
By Jon Weisman
June has been kind to many Dodgers, but on the hitting side, particularly so to Matt Kemp.
Since his OPS fell to .719 on May 30, its lowest point since the second game of the season, Kemp has been OPSing .905 (.381 on-base percentage and .525 slugging percentage). He leads the Dodgers in total bases for the month of June with 51.
Has Kemp been a changed hitter? Maybe. On the other hand, remember when I wrote how Kemp had the best batting average on balls in play in Dodger history, but that early in 2014, it was abnormally low? Well, take a look at the following:
Matt Kemp BABIP, 2014
.167 April 4-17
.392 April 18-May 21
.000 May 22-May 30
.405 May 31-June 29
For the year, Kemp's BABIP is .352 — which exactly matches his career average.
Though Kemp's home run power is down, he is on pace for a career-high 39 doubles. And Kemp still leads the Dodgers in home runs in June with three. Here's an odd fact: The Dodgers have more wins in June (17) than home runs in June (13).