[mlbvideo id="34162951″ width="550″ height="308″ /]
By Jon Weisman
Dee Gordon's lead in the Major League stolen base race, which was 14 when June began, is down to only four. And yet, his case for making the National League All-Star team as a reserve has perhaps never been stronger.
Thanks in no small part to becoming the first player since Ray Chapman in 1917 to have four consecutive multisteal games, Houston's Jose Altuve has nearly flagged down Flash Jr., who has one steal since June 21. And Cincinnati's Billy Hamilton has made up nearly as much ground.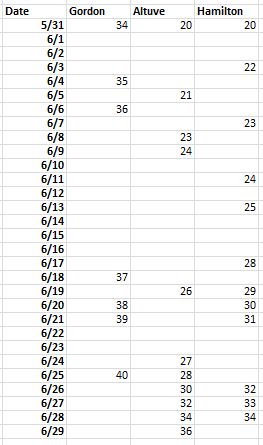 The Irony Committee notes that this has been happening while Gordon has had a rock-solid month at the plate, with a .316 batting average, .371 on-base percentage (including eight walks) and .495 slugging percentage. However, after success in 34 of his first 37 steal attempts this year, Gordon has only been safe in six of his past 11.
Altuve, who was an NL second baseman less than two years ago before the Astros moved to the American League, has hit a scorching .424/.455/.511 in June, with Reds outfielder Hamilton at .330/.351/.509.
Nevertheless, Gordon has moved up to second place in Wins Above Replacement among NL second basemen, according to Fangraphs, trailing only position voting leader Chase Utley of Philadelphia. Gordon is rated the No. 1 offensive second baseman in the league and No. 1 at baserunner, and league average on defense (frequent spectacular plays notwithstanding).
The Mets' Daniel Murphy and Brewers' Scooter Gennett, neither of whom have any more of an All-Star pedigree than Gordon, are ranked third and fourth at second base by Fangraphs behind Gordon.
In short, by continuing to hone all aspects of his game, Gordon has become every bit the legitimate candidate to join the NL team in Minnesota in two weeks.