[mlbvideo id="34217631″ width="550″ height="308″ /]
By Jon Weisman
The Dodgers left the bases loaded in the first inning against Cleveland tonight. They did the same in the second, following back-to-back leadoff doubles that yielded not a run.
But the overthrow of grace came in the bottom of the fourth inning, when after finally knocking out Indians starter Justin Masterson on Josh Beckett's second double (his second double of the game), Dee Gordon's single (his second hit of the game) and Yasiel Puig's RBI single, this happened: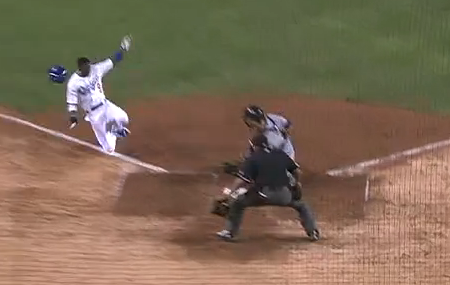 Gordon tested the arm of charging left fielder Michael Brantley, who had 20 assists in his past 227 Major League games, and was thrown out rather easily. And then Puig, tagging up and trying to advance to second on the play, was thrown out by catcher Yan Gomes – that is, after instant replay overturned the initial safe call.
A night after instant replay removed a potential no-hitter at Dodger Stadium, it gave the local ballyard a triple play.
The Dodgers then seemed to mount their own challenge of the call at home, which perplexed a bemused Vin Scully.
"Three outs to an inning, right? I mean, it used to be that way." – Vin

— Dodger Insider (@DodgerInsider) July 2, 2014
It was the first triple play at Dodger Stadium in two years and two months, since this one on Jackie Robinson Day, 2012, which was plenty weird in and of itself.
[mlbvideo id="20655513″ width="400″ height="224″ /]
Despite seven hits and three walks in the first four innings against the Indians, plus an error, the Dodgers trailed Cleveland 5-3, thanks to a rare off night on the mound by Beckett (though not at the plate, where he became the first Dodger pitcher with two doubles in a game in seven years).
The Dodgers then loaded the bases in the fifth inning for the third time in the game, but pinch-hitters Hanley Ramirez and Clint Robinson couldn't bring them home. After two hours and four Indians pitchers – but still only five innings – the Dodgers remained behind by two.
Update: Well, it wasn't the Dodgers' night. Cleveland added two runs in the sixth off Jamey Wright and three in the eighth off Paul Maholm, while the Dodger offense was limited to a Dee Gordon infield single (and caught stealing) in the sixth and walk in the ninth, over the final four innings of a 10-3 loss that dropped Los Angeles back into second place, a half-game behind San Francisco.