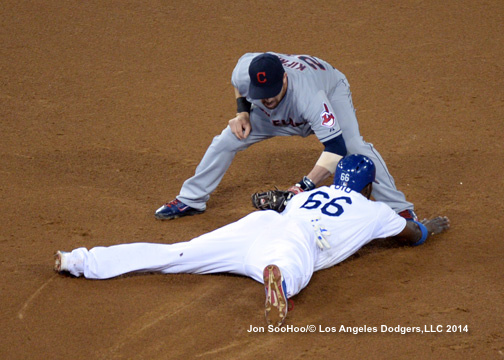 For photo highlights from Tuesday's action, check out the LA Photog Blog.
Indians at Dodgers, 12:10 p.m.
Dee Gordon, 2B
A.J. Ellis, C
Andre Ethier, CF
Matt Kemp, LF
Clint Robinson, 1B
Scott Van Slyke, RF
Miguel Rojas, 3B
Carlos Triunfel, SS
Hyun-Jin Ryu, P
By Jon Weisman
It's a long season, and players need their days off. And every once in a while — particularly at a 12:10 p.m. game after a labored loss the night before — more than one player gets one.
That's the story behind today's Dodger starting lineup, which does not include Yasiel Puig, Adrian Gonzalez or Juan Uribe — nor Hanley Ramirez, who has only started one game since June 23.
Dodger manager Don Mattingly was, you could say, taunted by reporters before today's game about the lineup, which features three players who until recently were regulars at Albuquerque.
"It's a winning lineup today," he responded, though not in a tone that seemed to ignore the potential offensive challenges.
"There were a number of guys that needed a day," Mattingly added. "We've really been going hard. Twelve o'clock game, it's just hard to keep firing guys out there. I need some energy.
"You see just a difference in at-bats, you see them get impatient. You see guys just get tired, chasing, making mistakes at the plate."
Uribe had a planned day off, part of the ongoing effort to manage his durability, while Ramirez is getting probably one more day before the Dodgers fish/cut bait on whether to put him on the 15-day disabled list. The Dodgers' first game after the All-Star Break is July 18, meaning that if they want him activated by then, he would need to go on before Thursday's game at Colorado. Mattingly recognizes that having him only available in spot duty is far from ideal.
"His playing part-time isn't really good for anybody," Mattingly said. "It's not good for him, it's not good for us."
Gonzalez, according to Mattingly, is having "a little bit of a neck thing" of the kind that periodically bothered him in 2013. Gonzalez is available today, but Mattingly is trying to nip the condition quickly.
"We let him go too far, it seems like it sets him back," Mattingly said. "If he gets too tired, then the (bad) habits start."
Puig, said Mattingly, is simply looking fatigued. He has started 22 consecutive games and 50 of the past 51.
"Some of his at-bats," Mattingly said, "it's usually not physical. This game's not that physical. It's usually more the mental side and having him prepare every day, see him try to have good at-bats against the way they're attacking you."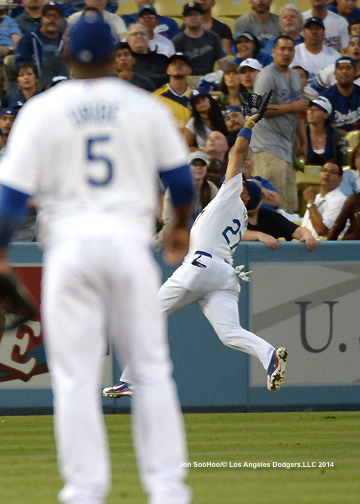 Mattingly added that Matt Kemp, who has started 33 games in a row since Carl Crawford was injured, is close to getting a day off himself. Andre Ethier will also get one soon, perhaps more than one, based on the left-handed starting pitching that awaits the Dodgers in Denver.
Said Mattingly: "That day-to-day, getting ready to face another guy — 'What's he gonna do to me?' — and prepare for him, those are the things that wear you down. Just that little breather of not getting to start a game, even if you're not in it, is a break."
The pressure would seem to be on starting pitcher Hyun-Jin Ryu. Mattingly downplayed that, before joking about it at the expense of Dodger pitching coach Rick Honeycutt.
"If Honeycutt would just do his job today, we'll be all right," Mattingly joked. "It's all on Honeycutt."