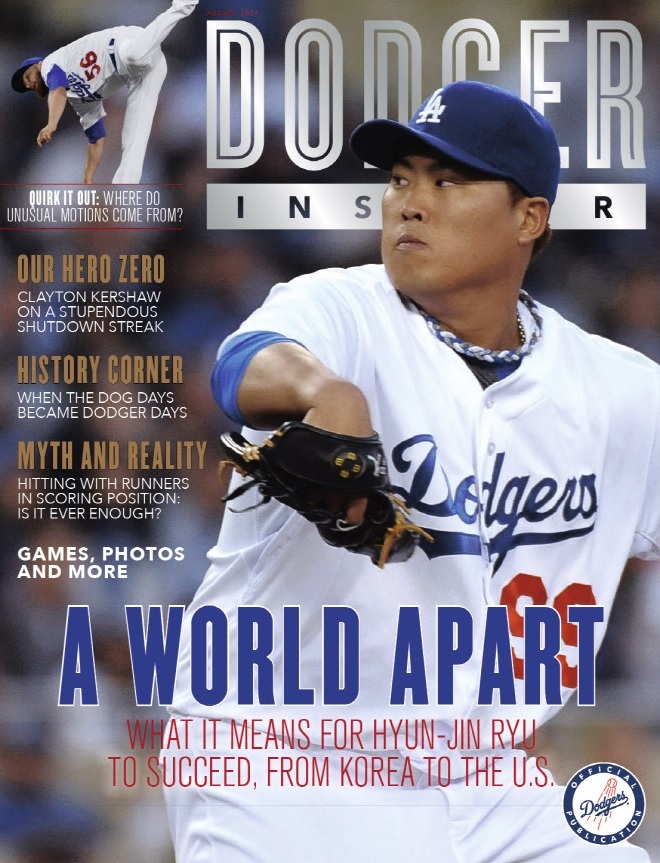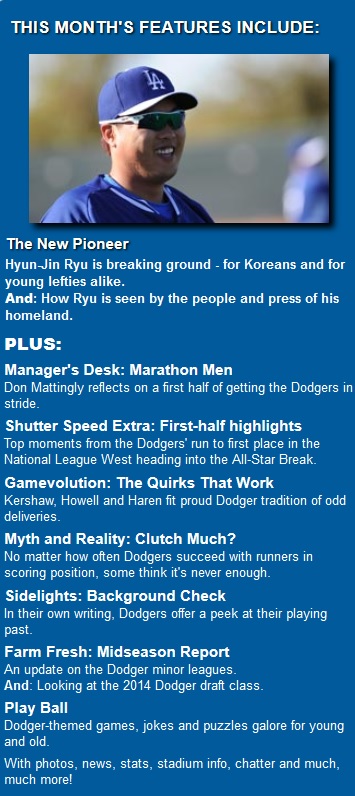 By Jon Weisman
Cool features abound in the August issue of Dodger Insider magazine — on sale beginning today throughout the ballpark and now on its way to subscribers.
One thing that will immediately capture your attention is a collection of questionnaires some of the Dodgers filled out with pen on paper, which we reprint in the magazine. In their own writing, you'll see such Dodgers as Josh Beckett, Dee Gordon and Justin Turner talk about their earliest baseball memories, how they got the news of their first call up to the big leagues, and more. It's not "Remembrance of Things Past," but it's fun.
Also, in addition to our Shutter Speed series of top photos of the month, we've included a Shutter Speed Extra that goes back through the entire season leading up to the All-Star Break and highlights the top moments of the Dodgers run to first place.
There's an eyecatching midseason report on Dodger minor-leaguers, as well as a cool piece that looks at how pitchers like Clayton Kershaw and J.P. Howell developed their idiosyncratic pitching styles.
And topping it all off is Cary Osborne's cover package on Hyun-Jin Ryu, tracing his journey from Korea to the U.S. and exploring what it has meant to all involved.
There's tons more in the magazine – over two dozen stories in all. Buy it at Dodger Stadium or by going to dodgers.com/magazine. The digital version of the issue should be next week.