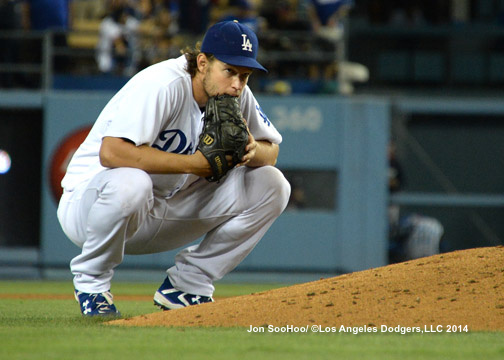 For more highlights from Thursday's game, visit LA Photog Blog.
Cubs at Dodgers, 7:10 p.m.
Dee Gordon, 2B
Yasiel Puig, CF
Adrian Gonzalez, 1B
Hanley Ramirez, SS
Carl Crawford, LF
Matt Kemp, RF
Justin Turner, 3B
A.J. Ellis, C
Dan Haren, P
By Jon Weisman
Clayton Kershaw was as unsurprising a winner as they come of National League's Pitcher of the Month honors in June. And in July, he hardly declined.
Thanks to a 1.07 ERA last month, Kershaw is the first pitcher to have an ERA under 2.00 through the end of July in back to back seasons since Greg Maddux in 1994-95, notes Lee Sinins at Gammons Daily.
The lefty's current 2014 ERA is better than Sandy Koufax's best (1.73) and coming within range of the 98-year-old franchise record, 1.58 by Rube Marquard in 1916.
To be clear, Kershaw already set the Dodger record for adjusted ERA in a season last year, a record he is on pace to smash this year.
Kershaw's July ERA was somehow only fourth in Major League Baseball but first in the NL.  Interestingly, Kershaw also has a close match in the American League with the same initials, as Carson Cistulli of Fangraphs notes.

So, what about July in the NL?
Kershaw led the league in ERA (1.07), just ahead of San Diego's Tyson Ross (1.10) and the Mets' Jacob deGrom (1.39).
He was tops in WAR (1.4), followed closely by deGrom, Ross and Zack Greinke.
He was first in innings (42), edging Philadelphia's Cole Hamels (41 2/3) and Ross (41).
Things shift a bit when you look at FIP (fielding-independent pitching). Kershaw (2.06) is fourth, fairly far behind deGrom (1.43), Greinke and Ross.
And how about this? July's NL leader in xFIP is none other than Hyun-Jin Ryu (2.19), with Greinke second and Kershaw sixth (2.52). Ross, deGrom and Washington's Stephen Strasburg occupy the spots in between.
Strikeouts per nine innings? Kershaw (9.21) was seventh, with Greinke (10.60) just ahead of deGrom (10.58) and Ross (10.54), followed by Cincinnati's Johnny Cueto, Ryu and Strasburg.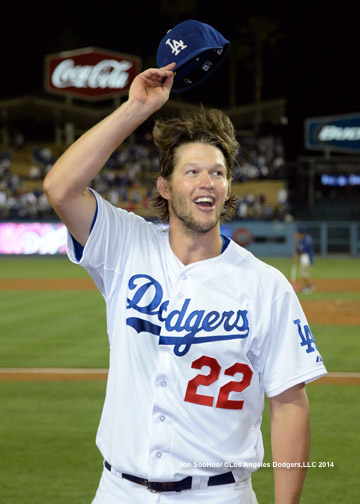 As you can see, it's a tight race. There's a statistical case for deGrom, except for the fact that he threw 32 1/3 innings, 23 percent fewer than Kershaw. (Note that this same argument was used in reverse against Kershaw when it came time to pick the NL's All-Star Game starting pitcher.) Ryu only pitched 28 1/3 innings in July.
The top challenger to Kershaw for July NL Player of the Month honors is Ross. I would pick Kershaw, by a nose, but in my mind, it's enough of a tossup that it really comes down to whether the powers that be want to spread the wealth around.
No matter what happens this month, Kershaw has bigger fish to fry, individually (Cy Young race, anyone?) as well as his drive to lead the Dodgers to a title.
* * *
Other news and notes …