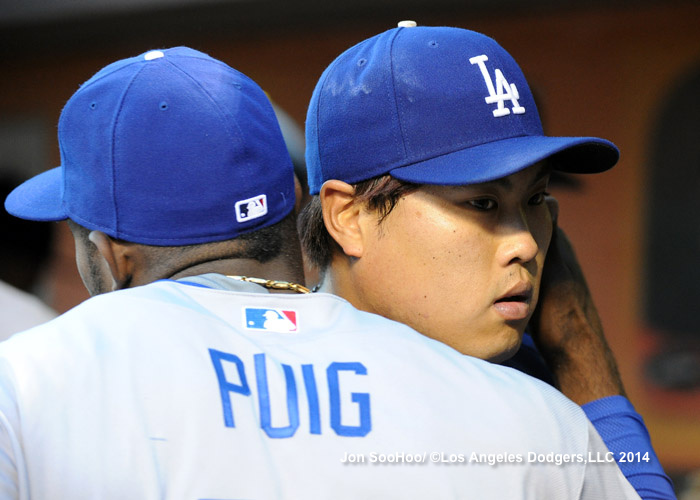 Dodgers at Giants, 6:05 p.m.
Dee Gordon, 2B
Yasiel Puig, CF
Adrian Gonzalez, 1B
Matt Kemp, RF
Hanley Ramirez, SS
Carl Crawford, LF
Juan Uribe, 3B
A.J. Ellis, C
Zack Grienke, P
Note:
Paco Rodriguez was activated from the disabled list today.
By Jon Weisman
It's not about the setback. It's about how you respond to the setback.
And it's not about instant gratification – not that I'm not a big fan of instant gratification. It's about how things play out in the long run.
It's understandable to be worried about Hyun-Jin Ryu and the Dodgers following the lefty's injury-shortened outing in a 9-0 loss Friday to San Francisco, but don't surrender to the worry. Twists and turns are all too common in baseball to get worked up over a single event.
If the Dodgers couldn't overcome challenges, of which there have already been plenty this season, they wouldn't have a National League West lead in the first place.  Whatever might come, assuming no resiliency of a team that made up 9 1/2 games in the standings makes no sense.