[mlbvideo id="36235077″ width="550″ height="308″ /]
By Jon Weisman
Tonight's combination of Augustus Gloop, Mr. Creosote, Charles Bronson and Ed Grimley is brought to you by the Los Angeles Dodgers.
In a dish of revenge as cold and overflowing as a jammed frozen yogurt machine, the Dodgers avenged Friday's 9-0 loss to the Giants with a record-shattering 17-0 victory over San Francisco.
The Dodgers scored the most runs ever by an opponent at San Francisco's AT&T Park and shattered the record for the biggest shutout in the history of the Dodgers-Giants series — by either team. Los Angeles came within two of its franchise record for largest shutout victory, a 19-0 defeat of the Padres on June 28, 1969.
For the Dodgers, their biggest shutout ever of the Giants was 12-0 on April 19, 1940. For the Giants, it was 16-0 over the Dodgers on July 3, 1949. Tonight's game also happened to come 40 years and one day after an 11-0 Dodger victory at Candlestick Park.
The last time San Francisco lost, 17-0, the winning points came on November 19, 1950 on a George Blanda field goal.
The Dodgers scored four runs apiece in the first and second innings to knock out Giants starter Tim Hudson before he recorded his fourth out, the shortest start of his career, an event eerily similar to Hyun-Jin Ryu's the night before. In their first two trips through the lineup, the Dodgers were 11 for 16 with a walk, a sacrifice fly and four doubles — two by Matt Kemp, who had three hits and three RBI in the first three innings, while also throwing out Angel Pagan at the plate (mid-bubble!) in the first inning to stop the Giants' most significant scoring threat.
And that's where the difference from Friday was. As bad as the San Francisco rout was, the Dodgers nearly doubled it, like a sudden shift in a backgammon game.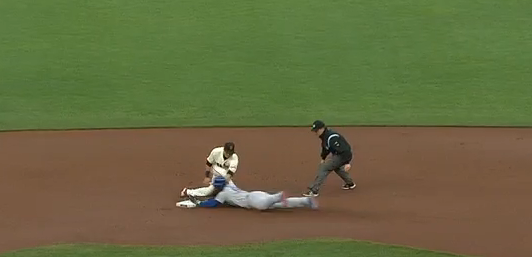 Yasiel Puig, who ignited the Dodgers with the first hit of the game, stretching an apparent single into a leg double (pictured), had three hits and was hit by a pitch. Hanley Ramirez had three singles and a double. Juan Uribe had a single and a home run. Dee Gordon had two singles and his 60th stolen base of the season while becoming the first player in Los Angeles Dodger history to record seven at-bats in a nine-inning game.
And Zack Greinke was more than the beneficiary. In addition to six shutout innings on 84 pitches, Greinke walked, doubled off the top of the wall and hit his fourth career home run, his first as a Dodger.
Don't expect Greinke (.204/.271/.352) to catch Madison Bumgarner (.242/.273/.419) in the Silver Slugger race, but he made up a chunk of ground tonight. Greinke is 5 for 10 with a walk and a .900 slugging percentage in his past five games.
Off the bench, Scott Van Slyke hit the Dodgers' other home run, Alex Guerrero played left field and got his first Major League hit, and Roger Bernadina became the third Dodger to be hit by two pitches in his only two plate appearances of the game.
With 24 hits, the Dodgers were one away from the Los Angeles record for a nine-inning game. The Dodgers went 11 for 19 with runners in scoring position.
Oh — and not to be forgotten, Scott Elbert pitched a shutout inning in his first Major League game in 25 months. So very happy for him.
I know there are bigger fish to fry, but the #Dodgers magic number to clinch a playoff spot is down to 7.

— Dodger Insider (@DodgerInsider) September 14, 2014
The More You Know …
The educational moment from tonight's game is that while they don't often come back from an in-game deficit, you can hardly do better after a defeat than the Dodgers. Tonight, the Dodgers improved their record to 43-21 after a loss.
It's not as dramatic as coming back in a game, but it's more meaningful.
… The More You Know