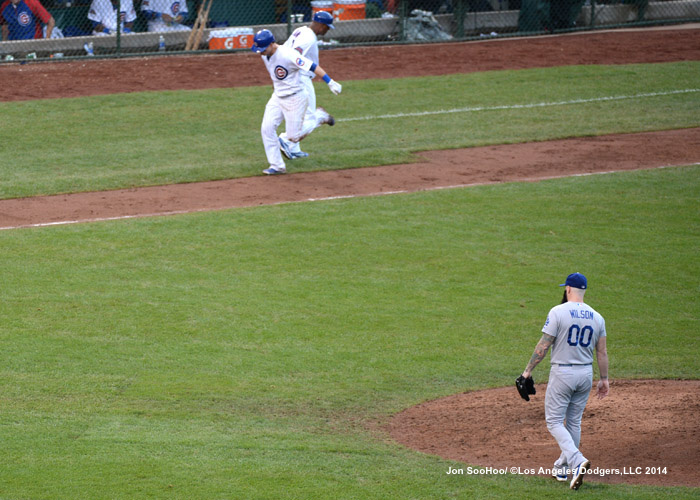 For more photos from Saturday, visit LA Photog Blog.
Dodgers at Cubs, 11:20 a.m.
Dee Gordon, 2B
Yasiel Puig, CF
Adrian Gonzalez, 1B
Matt Kemp, RF
Hanley Ramirez, SS
Carl Crawford, LF
Juan Uribe, 3B
A.J. Ellis, C
Jamey Wright, P
By Jon Weisman
Since becoming a full-time relief pitcher, Jamey Wright has made one start, with the Rays on September 1, 2013. As Eric Stephen of True Blue L.A. noted, the start came in part because of concern over Wright's current Dodger teammate, Roberto Hernandez.
Today, Wright will start the Dodgers' 2014 regular-season road finale at Wrigley Field, the capper of a week of extraordinary reliance on the bullpen.
Wright, who started 246 games from 1996-2007, has had three short outings this week of 16 pitches Monday, 10 pitches Tuesday and 12 pitches Friday. He has had two three-inning outings with the Dodgers this year, both in May and peaking when he won the second game of the Minnesota doubleheader that went extra innings on May 1. That game, which featured Red Patterson's only big-league appearance, was about as close to a bullpen game as the Dodgers have come until this week's non-stop reliever parade.
Dodger relievers, not unexpectedly, threw four more innings in Saturday's bummer of an 8-7 loss to Chicago, giving them 29 2/3 in six days. Kenley Jansen and Yimi Garcia are the freshest heading into today's game, though the only pitcher who might be unavailable after pitching two days in a row is J.P. Howell.
The home run that Howell allowed Saturday was his first in more than a year, since September 6, 2013, and third as a Dodger. Even after that blast, Howell has allowed only a .249 slugging percentage in his two years with Los Angeles.
Brian Wilson, who gave up the game-winning home run in the eighth inning, had pitched shutout ball without allowing an inherited runner to score in nine consecutive appearances dating back a month. Since the All-Star Break, Wilson hadn't allowed a run or an inherited runner to score in 17 of 19 appearances, striking out 19 while allowing 16 baserunners in 15 1/3 innings.  I won't pretend that Wilson has looked like a shutdown reliever in that stretch, but he hasn't been a gascan either.
The difference Saturday, as Ken Gurnick of MLB.com noted, was that Dodger manager Don Mattingly hasn't let Wilson face many lefties with power potential. Chris Coghlan had already homered once Saturday when he came up against Wilson.
(Mattingly) said he knows Wilson didn't hit 90 mph with a pitch in this game, but Wilson indicated that he's been a cutter pitcher all season after being unsuccessful early in the year when he occasionally amped up to the mid-90s. He said he didn't locate the home run pitch, he's not hurting and that velocity is not a correct barometer for his season.

"It's what he's been doing all year," Mattingly said. "Nothing different than all year. Not trying to change anything, this is what we've been doing to get us here. Today it didn't work out."

Except that by the time Wilson had come in, Mattingly had used lefties Howell, Paco Rodriguez and Daniel Coulombe. Scott Elbert and his delicate arm were used Friday, so Wilson faced the left-handed-hitting Coghlan. Lefties are hitting 52 points higher than righties against Wilson, which is why Mattingly has been setting up with both when possible to avoid these kinds of vulnerable matchups.