[mlbvideo id="36580707″ width="550″ height="308″ /]
By Jon Weisman
This is really just a slice of what an awe-inspiring resume Clayton Kershaw has put together.
• Kershaw leads all players in Wins Above Replacement, according to Baseball-Reference.com.


• Kershaw will be the first player to lead the Major Leagues in ERA for four years in a row.


• Kershaw has the highest strikeout-walk ratio in the National League in the past 10 seasons.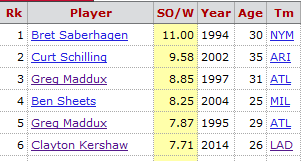 • Kershaw leads the Majors in adjusted ERA (197 ERA+), fielding-independent ERA (1.80), xFIP (2.07),  WHIP (0.86), opponents' OPS (.523), opponents' OBP (.233), strikeouts per nine innings (10.8), strikeout percentage (31.9 percent), average game score (70) and pitches per inning (13.7).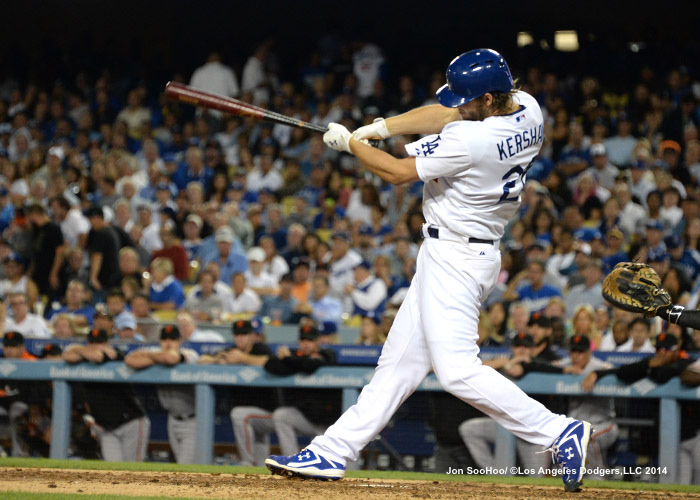 • Kershaw took the mound for 199 different innings this year (197 full innings, plus two in which he was replaced with two out). He pitched scoreless baseball in 172 of them. In 27 starts this year, Kershaw has allowed earned runs in only 25 different innings.
• In his past 1,000 innings, Kershaw has a 2.17 ERA with 1,051 strikeouts — 9.5 strikeouts per nine innings compared with 2.1 walks per nine innings.
• Of the past 1,000 batters he has faced, only 238 have reached base.
[mlbvideo id="35263199″ width="550″ height="308″ /]
• Kershaw is underpaid. Fangraphs values his 2014 season at $39.8 million.
• Kershaw pitched at least eight innings in 15 of his starts. That's more than all but three other teams: Cincinnati (18), Detroit (17) and Oakland (16).
• Kershaw allowed two runs or less in 19 of 27 starts, three runs or less in 26 of 27 starts.
[mlbvideo id="33850215″ width="550″ height="308″ /]
• Opponents have hit below .200 against Kershaw each of the past two years. His opponents' batting average went from .195 in 2013 to .197 in 2014, even though his luck worsened — his batting average on balls in play went up from .255 to .284.
• Kershaw's opponents' OPS for the past two seasons (1,657 plate appearances) is .522. Only 12 players in MLB history with at least 1,650 plate appearances have had OPS that low: eight pitchers and four catchers. In other words, Kershaw has turned his opponents into absolute worst hitting players of all time.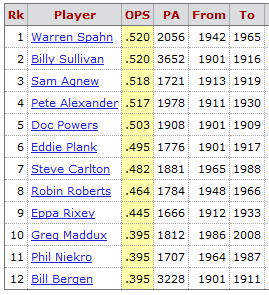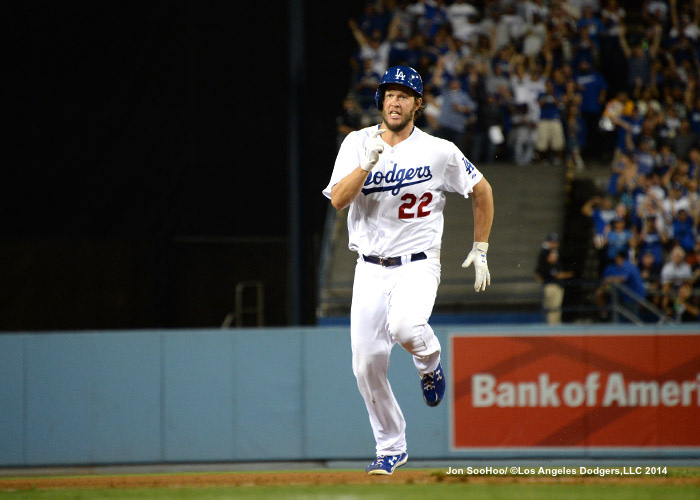 • Kershaw has faced 749 batters and fielded for 198 1/3 innings. In that time, Dodger opponents scored 42 runs.
• Kershaw leads National League pitchers in defensive runs saved.
• Kershaw has won the Dodgers' Roy Campanella Award two years in a row and is nominated for his second Roberto Clemente Award.
• Kershaw is Kershaw.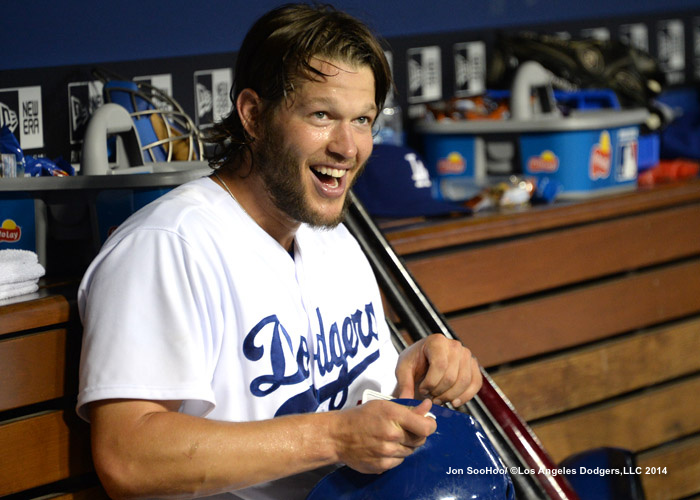 Update: Kershaw is seventh in MLB history in strikeouts before turning 27.


• Kershaw is third in MLB history in strikeouts per nine innings before turning 27, behind only Nolan Ryan (9.68) and Pedro Martinez (9.59).
Update 2: Kershaw now has more career games (eight) with no walks and at least 10 strikeouts than any Dodger, including Sandy Koufax, notes Lee Sinins at Gammons Daily.
Update 3: Kershaw held opponents to three runs or less in 96.3 percent of his starts, the best percentage in MLB history.
• In his 198 1/3 innings, Kershaw loaded the bases twice.
• In his 27 starts, he allowed 23 hits with runners in scoring position.
• In the eighth inning, when Kershaw should have been tiring, opponents had four singles and no walks in 48 plate appearances, for an .083 on-base percentage and slugging percentage.
• Against winning teams, Kershaw had a 1.65 ERA, 0.89 WHIP, 10.3 strikeouts per nine innings and a 8.8 strikeout/walk ratio, averaging 7.8 innings per start.
• Kershaw pitched to 340 batters in road games. Two of them homered.
• Kershaw hit more triples at Dodger Stadium in 2014 (one) than he allowed (zero).
• Even if you removed his 41-inning scoreless streak from his 2014 record, Kershaw's ERA of 2.23 would lead the National League.
• Kershaw's last intentional walk? May 3, 2013.