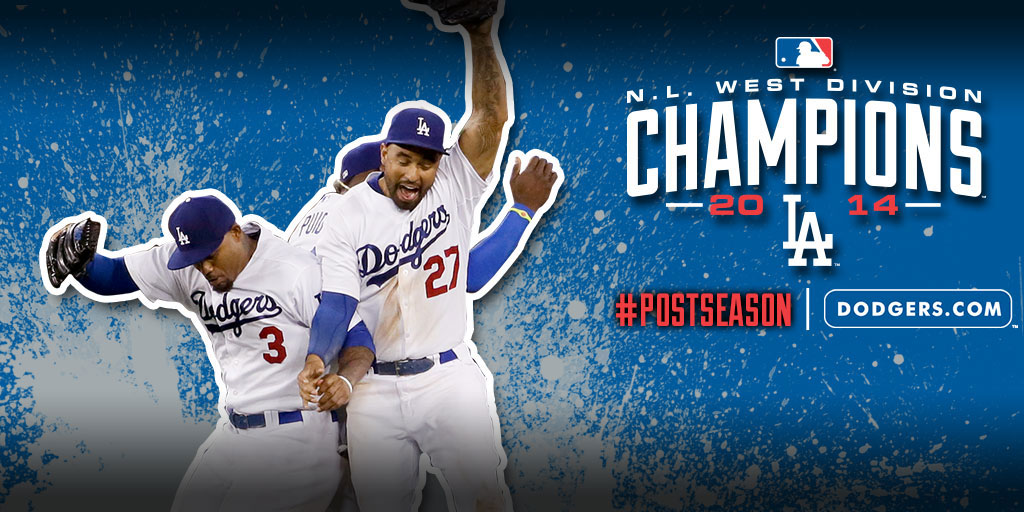 Wednesday, September 24, 2014, 6 p.m.
From: Jon Weisman
To: Dodger Fans of Later Tonight
If you're reading this, then the Los Angeles Dodgers have clinched the 2014 National League West title, automatically activating the Opposite-of-Doomsday Dodger Insider Publications Scenario.
I can only imagine the wonders of the world you are living in, thousands upon thousands of seconds in the future. No doubt you travel to and from Dodger Stadium by jetpack, and the bioscience industry has invented cures for all the world's ills.
For you, the NL West race is a thing of the past, a tale of yore, and no doubt details have grown fuzzy and obfuscated over the passing minutes. But while still deep in that ancient time, I wanted to preserve some details and remembrances — a primary source if you will.
So whisk the dust off the long-ago, and recall with me these memories of the Dodgers' 2014 regular season.
In the beginning …
Seven months ago, the Dodgers had no idea who their second baseman would be. Their starting rotation was an area of strength at the front but of health concern in the back. The bench was considered depleted, and the outfielders were a sore subject before the team's first Cactus League game was played.
Six months ago, Clayton Kershaw went on the disabled list. The injury "wasn't serious," in the same way that a call from the school about your child "wasn't serious," which is to say, it's always serious when your precious is involved.
Five months ago, the Dodgers were in first place. Really. Despite the absence of Kershaw, despite a bummer of a home opener, despite Matt Kemp working his way through his recovery, the Dodgers held a slim lead in the NL West over San Francisco. The team had learned its lesson: Not again would Los Angeles force itself to rally from a 9 1/2-game deficit, no longer would it wait until the summer to begin taking care of business. This team had a firm foundation and nothing but forward progress in its forecast.
Four months ago, the Dodgers were six games out of first place.
Kershaw had been unspeakably tossed around — delivered out of the game in triple-cate — by the Arizona Diamondbacks. Kemp was yanked out of center field and onto the bench, pending an uncomfortable transition to left. Josh Beckett, in a comeback year, would throw a no-hitter, but it was the briefest of turbo thrusts for a vessel moving in reverse. Shortly after the first of June, Don Mattingly would sigh after a postgame loss and call his team's level of play an unprintable name.
On June 7, after a walkoff loss at Colorado, there the Dodgers were: 9 1/2 games out in the NL West. Again.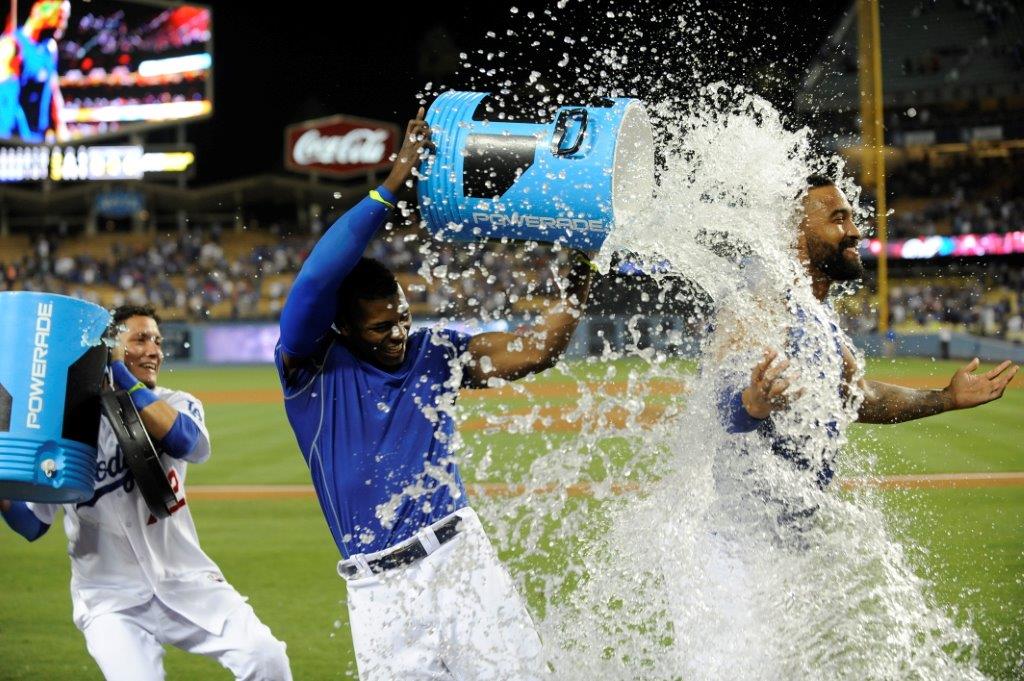 Into the rebirth …
Mattingly told us that there would be no quick comeback, no easy fixes. This team would have to grind their way back. And in one sense, he was right. The Dodgers' longest winning streaks all year were one of six games and one of four. This club was nearly textbook in moving two or three steps forward, one step back.
But in one sense, Mattingly was very wrong. Like a team on a pulley, they rose quickly and steadily. Thanks to a midseason collapse by San Francisco, it took the Dodgers only 23 days to make it back to first place.
So quickly did Kershaw shift into gear, a gear even we and perhaps he didn't even know the all-world pitcher had, throwing a no-hitter that was by all rights a perfect game, spinning 41 consecutive scoreless innings. Kemp started to hit, hit some more after moving to right field, hit some more after that, until the power came pouring out of him like Niagra Falls.
No position player — with the improbable but entirely welcome exception of Justin Turner — escaped a dry spell once summer arrived, but so many at one time or another took the lead. Look upon these names: Dee Gordon, Hanley Ramirez, Juan Uribe, Carl Crawford, Yasiel Puig, Scott Van Slyke, and remember well their many moments in the sun. Look upon A.J. Ellis and Andre Ethier, whose numbers were smaller than usual but whose presence was large.
Zack Greinke and Hyun-Jin Ryu were almost completely dependable, while Dan Haren turned a slump that seemed it might have no end into an aberration. The rotation did falter when Beckett's body gave out and Chad Billingsley's wasn't able to step in, and the bullpen at times — heck, the entire team at times — was summed up in the words of Nicolas Cage:
[youtube https://www.youtube.com/watch?v=8hck-3mlQjY]
But however strangely, for most of the year and increasingly when it counted, the team was a force.
Every stumble by the Dodgers was labeled a crack in the foundation before turning out to be cosmetic. Countless were the times you would see the media, or even fans on Twitter, toll bells at the Dodgers, citing deficiencies that most certainly were fatal. And then a game or two later, victory would erase the gloom.
What the Dodgers might lack in authority, they make up for in resilience. Going into tonight's game, they were 46-22 after a loss, a record that no other team in the big leagues can match. And no, Clayton Kershaw did not start all of those games.
This is a stubborn bunch.
Into the great wide open …
It's the unique quality of baseball that 162 games add up to nothing but a prelude. The 2014 Dodgers, as much as any group of Dodgers, will be judged on its final month rather than the previous six. I don't know what that judgment will be. You don't know what it will be. The only thing we can count on is that whatever we think we can count on will inevitably be proven wrong.
Tonight's NL West title will have been celebrated, but it won't bring satisfaction. In the 26 years since the team's last October glory, no one would deny that it's World Series or bust.
With nine other quality teams in the postseason, the odds are never in one team's favor, no matter how great. All fans can do is watch them play and hope that it's their turn, that the Dodgers make it their turn.
At times in 2014, the Dodgers have seemed like a puzzle with a few pieces that don't quite fit and a few holes waiting to be filled. But as I write this now, I can't shake the possibility that perhaps more than we even know, this team has begun to lock into place, and that the final picture will be something to behold.