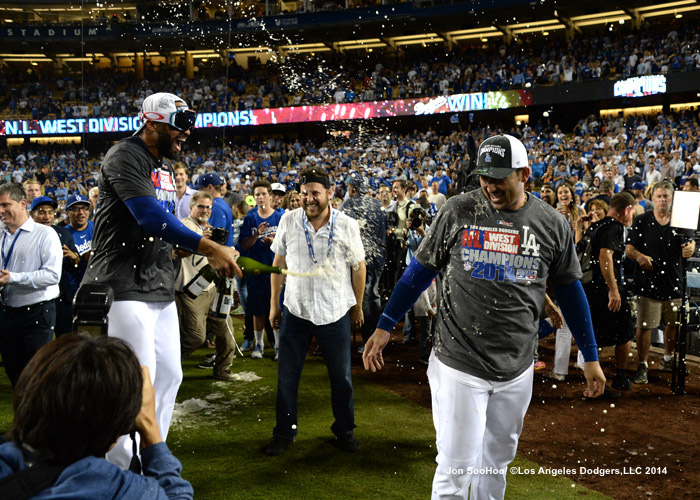 For more photos from Wednesday, visit LA Photog Blog.
Rockies at Dodgers, 7:10 p.m.
Dee Gordon, 2B
Yasiel Puig, CF
Adrian Gonzalez, 1B
Justin Turner, SS
Carl Crawford, LF
Andre Ethier, RF
Juan Uribe, 3B
Drew Butera, C
Roberto Hernandez, P
By Jon Weisman
Though I joked on Twitter about the kind of lineup the Dodgers might send out this weekend, my suggestion of starting pitcher Drew Butera was rejected by Don Mattingly.
In fact, the Dodger lineups figure to be fairly conventional, out of the desire to keep players fresh and the realization that everyone will have four days off between the end of the regular season and Game 1 of the National League Division Series against either St. Louis or Pittsburgh at Dodger Stadium on October 3.
Most if not all players will rest one of this weekend's three games against Colorado — Hanley Ramirez, Matt Kemp and A.J. Ellis start on the bench tonight — and those who do start might not play the whole game. But by and large, you'll see your favorite Dodgers if you come out or tune in.
The fun twist in tonight's starting nine is the second career start as a cleanup hitter for Justin Turner. Turner's only previous start as the No. 4 batter came 364 days ago, in his final start with the New York Mets. Turner went 2 for 4.
Don Mattingly told reporters today that Dan Haren and Zack Greinke are on schedule for starts Saturday and Sunday, though they will each be on a pitch count. There are five days of rest for Greinke between Sunday and Game 2 of the NLDS on October 4. Haren will be off longer, even if he ends up starting NLDS Game 3 on October 6.
Hyun-Jin Ryu continues to progress toward that Game 3 start, however. He threw off a mound in the bullpen today for the first time since his second-inning exit against the Giants exactly two weeks ago. Mattingly said that if there are no setbacks, Ryu would have another bullpen session Sunday, followed by a simulated game sometime next week, as he progresses toward a return to action.
Blessed not to have to travel for another nine days, Mattingly said the Dodgers would have a full day off Monday, then resume gearing up for the NLDS on Tuesday. On that Monday, it remains possible that the Cardinals and Pirates could be playing a tiebreaker for the NL Central title, with the loser of that game moving to the Wild Card game on Tuesday against the Giants, and the winner eventually heading out to Los Angeles. Washington wrapped up the top seed in the NL playoffs today with a victory over Miami.
St. Louis entered play today with a one-game lead over Pittsburgh. The Cardinals are in Arizona, which simultaneously announced the hires of former Dodger pitcher Dave Stewart and vice president of player development De Jon Watson and the firings of Kirk Gibson as manager and Alan Trammell as bench coach (though Trammell will manage the team's final three games this season). The Pirates are in Cincinnati; their final game Sunday is a matchup of Gerrit Cole vs. Johnny Cueto.
So sit back and enjoy the winners' dividend of three Dodger games with no pressure. Because a week from tonight, it gets real.