For more photos from Friday, visit LA Photog Blog.
Rockies at Dodgers, 6:10 p.m.
Dee Gordon, 2B
Yasiel Puig, CF
Adrian Gonzalez, 1B
Matt Kemp, RF
Hanley Ramirez, SS
Andre Ethier, LF
Justin Turner, 3B
A.J. Ellis, C
Dan Haren, P
By Jon Weisman
After a season of putting opposing hitters to bed, Clayton Kershaw is going to try it with one of his own.
The secret of Clayton and Ellen Kershaw has been passed along by Bill Shaikin of the Times — they're going to have a baby girl in January.
The due date comes roughly two months before Kershaw's 27th birthday and about a month before pitchers and catchers report to Spring Training.
In the much nearer future, Kershaw will be the Dodgers' pitching coach Sunday while Juan Uribe takes on managing duties, as Don Mattingly continues the recent tradition of handing over the reins to players for the last regular-season game of the season.
Uribe was one of those who greeted Dodger minor-league pitcher of the year Julio Urias on Friday. Urias and co-minor-league players of the year Corey Seager and Joc Pederson were honored before Friday's game.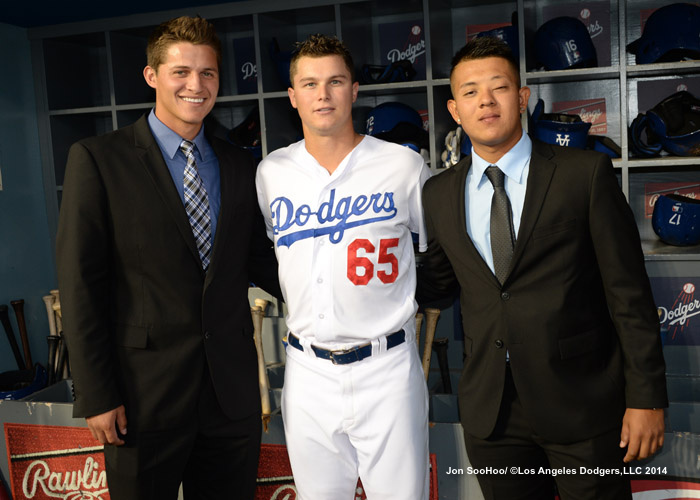 I like every Dodger I see, from Urias to Uribe. #TheSimpsons pic.twitter.com/emei1Vrhgf

— Dodger Insider (@DodgerInsider) September 26, 2014