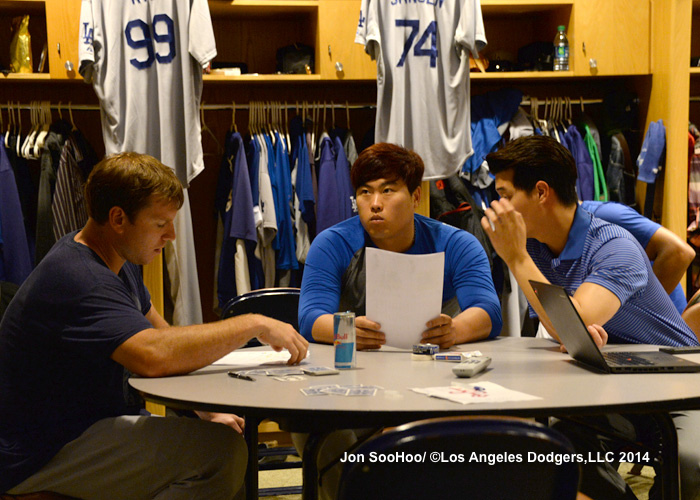 By Jon Weisman
Hyun-Jin Ryu reported no ill effects from his simulated game Wednesday, and Don Mattingly today announced him as the starting pitcher for National League Division Series Game 3 in St. Louis on Monday.
Mattingly said that there would be no pitch limit beyond the usual "100-110" for Ryu, who came back from a similar shoulder issue in May and threw 89 pitches over six innings in New York.
Ryu himself told reporters today that he feels better now than he did for that New York start.
Mattingly also confirmed that Dan Haren is scheduled to start Game 4, though the rest of the world is mindful that Clayton Kershaw pitched the first and fourth games of the 2013 NLDS. Neither Mattingly nor Kershaw, of course, would engage in any discussion that he might step in this year, but Kershaw did acknowledge that "last year I was fine with it" physically.
In addition, Mattingly said that the Dodgers are "98-99 percent" done determining their NLDS roster, but discussions were not finished. He did say that pitchers Kevin Correia and Chris Perez have been told they won't be on it.