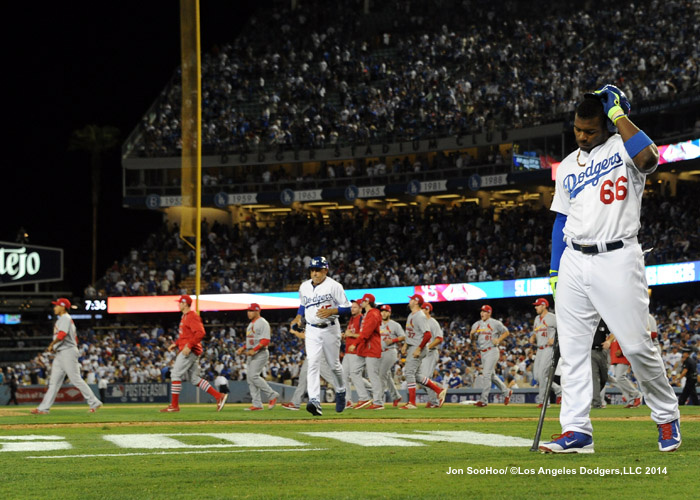 By Jon Weisman
The Dodger offense has been setting the table, but that table has been upside-down.
Thanks to A.J. Ellis, Clayton Kershaw, Andre Ethier and Zack Greinke, the bottom two slots in the Dodger batting order have combined to go 8 for 13 with a walk, two doubles and a home run in the National League Division Series. Overall, Dodger hitters have a .388 on-base percentage and .493 slugging percentage through the first two games.
The top of the order has been less consistent. Dee Gordon is 1 for 9 with a walk and four strikeouts. Yasiel Puig started off 2 for 3 with a walk and that pitch that hit him, but since then he has struck out five consecutive times, immediately re-launching the easy narrative that he has become too emotional and undisciplined.
While Puig's swing zone has become too wide, he hasn't been going down easy.
The first of the Puig strikeouts came with NLDS Game 1 on the line, batting with the tying run at third base and two out in the ninth. Against 100 mph-throwing St. Louis closer Trevor Rosenthal, Puig patiently took the first two pitches for a 1-1 count. He swung and missed at the next, then fouled off three fastballs in a row to stay alive, before ultimately whiffing on the seventh pitch of the at-bat.
Puig's first three strikeouts in Game 2 all came on 2-2 pitches, the last on a 1-2 pitch. In those four strikeouts, the only swings and misses have been on the final pitches of the at-bat. Of the 26 total pitches he has seen during the five strikeouts:
He has taken 10: eight of them for balls, only two for strikes.
He has swung at 16, fouling off 10 and missing six.
As the BrooksBaseball.net chart above from Game 2 indicates, the Cardinals only threw four of 19 pitches to Puig in the strike zone, with the other 15 on the outskirts. Puig has swung at seven of those 15. Noticeably, only one pitch has been inside; St. Louis has succeed in getting Puig to reach.
There's no reason to believe that Puig can't rein it in and become productive again starting tonight in Game 3. He has been taking pitches, but perhaps only needs to expand that restraint.
Gordon has more work to do to stop chasing. In the first two games of the NLDS, 36 of the first 46 pitches to Gordon have been outside the strike zone, according to Brooks, and he has swung at 15 of those, compared with eight of 10 inside the zone.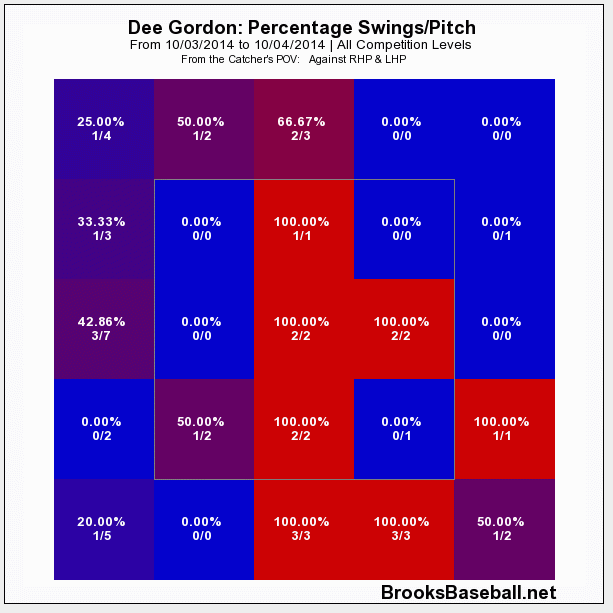 Elsewhere …