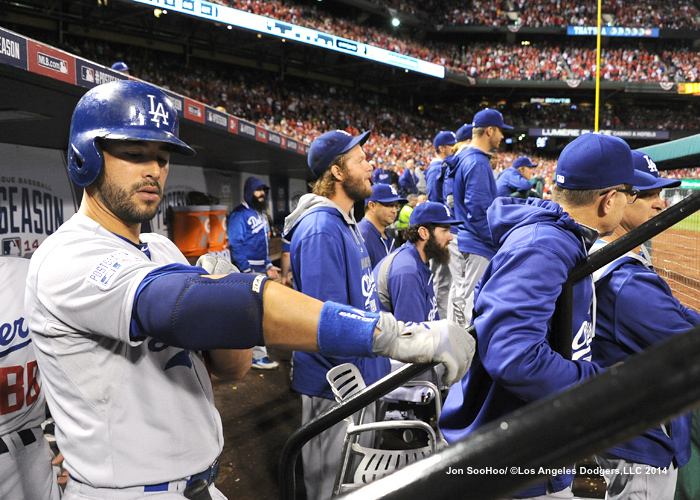 For more photos from Monday, visit LA Photog Blog.
Dodgers at Cardinals, 2:07 p.m.
Dodgers
Dee Gordon, 2B
Carl Crawford, LF
Adrian Gonzalez, 1B
Matt Kemp, RF
Hanley Ramirez, SS
Andre Ethier, CF
Juan Uribe, 3B
A.J. Ellis, C
Clayton Kershaw, P
–
Cardinals
Matt Carpenter, 3B
Randal Grichuk, RF
Matt Holliday, LF
Jhonny Peralta, SS
Matt Adams, 1B
Yadier Molina, C
Jon Jay, CF
Kolten Wong, 2B
Shelby Miller, P
By Jon Weisman

Yasiel Puig, who has a .774 OPS in the National League Division Series but has struck out in eight of his past nine at-bats, has been replaced in the Dodger starting lineup by Andre Ethier.
Ethier will bat sixth, while left fielder Carl Crawford moves up to the No. 2 spot behind Dee Gordon.
Since August 29, Ethier has made one start in a game that had meaning for the Dodgers, going 0 for 2 with a walk and a hit-by-pitch September 7 against Arizona. In his final 46 plate appearances of the regular season, Ethier went 12 for 39 with a .413 on-base percentage and .436 slugging percentage, then went 1 for 2 in Game 1 of the NLDS.
* * *
A few pieces related to starting pitcher Clayton Kershaw to pass along.
While A.J. Cassavell breaks down the risks of pitching on three days' rest at MLB.com, Russell A. Carleton at Baseball Prospectus notes that the Cardinals do not own Clayton Kershaw.
… When we look at Kershaw's performance against the Cardinals, we see that his BABIP is quite high at .343. I know that during the postseason everyone likes to pretend that games are won and lost based on magical fairy dust, grit, and character. But frankly, a lot of what drives a baseball game is dumb luck. That's not comfortable for people to hear, but the sooner that you accept that, the sooner we can have a real conversation about baseball. …

Clayton Kershaw has gotten very unlucky over the last four years against the St. Louis Cardinals, and luck is not a character trait. Luck just kinda happens. If you made bets on a series of coin flips and won seven in a row, that would be an unlikely event (though possible). Yes, you still have the money you just won in your pocket, but it's not because you have a special skill for calling coin flips or because you are a morally righteous person. You caught a run of good luck. Congrats. Don't expect it to last. …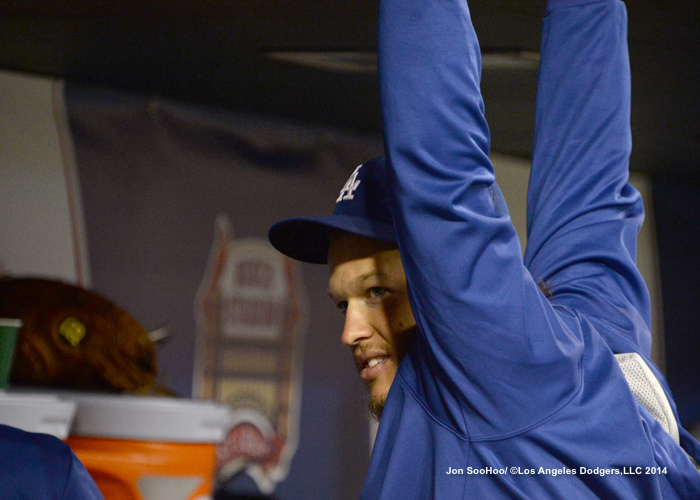 Jeff Sullivan did a deep analysis on the seventh inning of Game 1 at Fangraphs, and concluded the following:
… Kershaw made some mistakes. One wonders if he and Ellis made some sequencing mistakes, given that there could've been more timing-disrupting curveballs. The Cardinals, certainly, came through with a number of quality swings. Kershaw still could've gotten out of the inning. He was ahead of Carpenter 0-and-2. The way he pitched to Taveras made it seem like he still had good-enough stuff to remain. A few more inches of depth on the last slider to Carpenter, and the Dodgers emerge still ahead. But because the slider stayed up just enough, Carpenter earned another opportunity, and that's when Kershaw made his biggest mistake. Sometimes the story's as simple as failed execution. Too many times in the seventh, Kershaw failed to execute. And on enough of those times, the Cardinals' hitters succeeded with their own execution. You don't expect this to happen to a pitcher like Kershaw, but it happened on May 17. The next time out, Kershaw threw six shutout innings. The game makes failures out of everybody. Sometimes even Clayton Kershaw.
* * *
Among players on all four NLDS teams, A.J. Ellis (.615) and Hanley Ramirez (.583) have the highest on-base percentages.