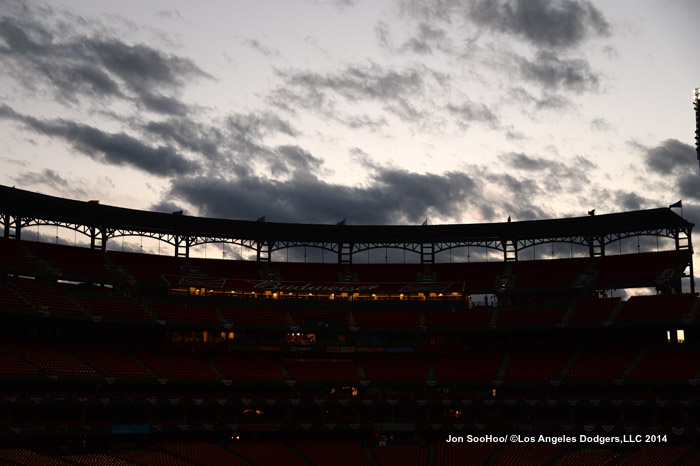 By Jon Weisman
From 1989-1994, the Dodgers didn't play in a playoff game.
From 1997-2007, the Dodgers played in four postseason series, but didn't come close to winning any of them, losing 12 of 13 games.
It was the next year that the numbness turned to pain. After sweeps in the 2008 and 2009 National League Division Series, the Dodgers entered two winnable National League Championship Series, but gave up gut-stabbing doubles and homers that led to their demise.
Last year came the slow torture of not being able to score when the pitching was superb, leaving no room to absorb an unexpected Clayton Kershaw beating in the sixth and final NLCS game.
This year, in the NLDS, I don't even know what to say. Never have I seen four consecutive games with backbreaking home runs after the sixth inning. I could not even imagine it.
When singles in the seventh inning by Matt Holliday and Jhonny Peralta each eluded Dee Gordon and Hanley Ramirez by inches, I still couldn't believe it.
When Matt Adams came up as the winning run, with Kershaw on the ropes, I wouldn't believe it.
And when Kershaw let go of that pitch, and that curveball hung in the air like a child's balloon waiting to be cruelly punctured, I shouted "No!"
I truly believe this team deserved better.
It kills me that Kershaw will be scarlet-lettered for a postseason performance in which he tried to put the team on his back and held them up so high for so long.
That the most well-balanced offense the Dodgers have had in years would lose three games by one run and the other by two.
That a manager I respect, who isn't perfect but who rarely gets enough credit for what he does well, couldn't even luck into having one of many impossible decisions with the pitching staff end right.
Most of all, it kills me that fans who have been so passionate have been forced to wait another year for relief and release.
What might have been.
Thanks to everyone who has read Dodger Insider this year. We'll be back Wednesday to kick off the offseason.