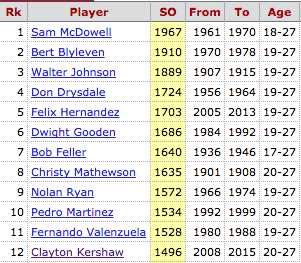 By Jon Weisman
One month and 21 days after his 27th birthday. Clayton Kershaw struck out his 1,500th batter in the Major Leagues, nabbing Drew Stubbs on a called strike three with a curveball in the third inning of today's game at Colorado.
Kershaw, who is also pursuing his 100th career victory today, struck out exactly 100 batters in his first big-league season in 2008, 185 in 2009 and more than 200 in each of the past five seasons. He entered today's game with the highest strikeout rate in the Majors (11.9).
Above right is the list of MLB pitchers to reach 1,500 strikeouts in their age-27 year. Kershaw should easily end the year in the top 10 of this group, and has an outside shot at the top five.
[mlbvideo id="109970583″ width="550″ height="308″ /]